For months, the corner of Ninth and Pennsylvania streets sported signage for BarYats, teasing us with the possibility that, after a show at the Phoenix or the symphony or anywhere else downtown, there would be an easy-to-park spot to stop in for a cold drink and a hot bowl of inexpensive but oh-so-comforting Cajun cuisine.

Well, in a last-minute game change reported in IBJ and elsewhere, Yats' owner removed himself from the eatery just before opening.

All is not lost, though. And maybe not anything. What's now called the Bar at the Ambassador (39 E. Ninth St., 602-2279) may have swapped a familiar name for a generic one, but there are still plenty of reasons to stop in.

Let's start with atmosphere. Eschewing gimmickry, The Bar at the Ambassador is a simple and elegant box of a room with a predominant-but-not-pushy bar taking up a significant percentage of the space. Dark wood dominates but doesn't intimidate. On our visit, the television at the bar was—mercifully—turned down, the service was friendly, and the chef even came out to introduce some dishes and to offer a taste of one of the dishes we didn't order.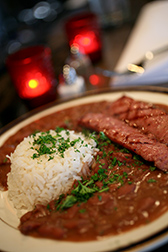 Red Beans and Rice is among the hearty offerings at the new Ninth Street eatery. (IBJ Photo/ Perry Reichanadter)
The simple-now-but-soon-to-be-expanded menu offers tastes of what might have been with Yats' influence, including a comforting, hearty plate of Red Beans and Rice with smoked ham and a choice of smoked or hot sausage ($8). But there are also dishes we wouldn't have automatically expected from the former partner, including a Mock Turtle Soup with Dry Sherry ($4/$6).

Fried Shrimp ($9.50) and Fried Catfish Filets ($8.50) satisfied even without considering their low price points, proving that "fried" doesn't have to be a dirty word when it comes to enhancing rather than trivializing the taste of seafood. Both dishes—and the accompanying cole slaw—hinted at the work we might expect from chef John Maxwell, a Louisiana native whose resume includes time at Antoine's and Maxwell's Cabaret in New Orleans. Given what seems to be a marked creative streak, his specials are likely to be the first thing I'll consider on a future visit.

With the Abby Coffeehouse and Urban Element now gone from this stretch of Pennsylvania Street, The Bar at the Ambassador is more than just a welcome addition, it's a necessary one. Here's hoping this solid and ambitious neighborhood restaurant finds the neighborhood welcoming.•

__________

Last in a month-long series of reviews of new downtown-ish restaurants.