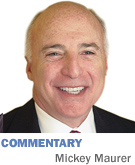 I have paused in the midst of my series on the 10 essential principles of entrepreneurship that you didn't learn in school to provide the following timely sartorial advice.

________

What to wear? What to wear? You are probably having difficulty trying to decide on a costume for Halloween. Lady Gaga is reported to be the best-selling costume this year, but if you cannot abide her wacky style, here are some better choices:

• President Obama. You can wear that Obama mask again this year, but unless he fixes the economy and carves out an energy policy, don't count on wearing it beyond the next presidential election. After that, it won't be worth 2 cents.

• Indianapolis Metropolitan Police Department officer. In this get-up, if you bowl over another trick-or-treater, others in the same costume are likely to cover for you. In the first years of his administration, Mayor Ballard recognized that Indianapolis had experienced a spike in violent and other crimes. His response was to hire Public Safety Director Frank Straub. I applaud this decision. In the case of Officer David Bisard, who allegedly killed a motorcyclist with his cruiser, Straub is now faced with a "good old boy" police department that appears to be taking the "support your comrade in arms" theory across a delicate line. This cronyism needs to be rooted out.

• Highland Country Club member. This is an easy costume to make. All you need is a white sheet. Four of our city's citizens say they were discriminated against because of color: Carl Drummer, George Pillow, Lacy Johnson and Sam Odle were asked to go to the back of the bus for tee times at Highland Country Club—where three of this foursome were members in good standing. Highland officials claim a misunderstanding, but more disturbing are alleged slights to these members' spouses and children during the tenure of their membership. For years, this pernicious practice was allowed to persist at Indianapolis country clubs. If a white-sheeted Highland Country Club member comes to your door for a treat, send him home with an empty sack and the message that this abhorrent behavior will not be tolerated in our community.

• George W. Bush. If you want to save some money, pull this old costume out of your closet. The damage this president did is still visited upon us. China is spending a fortune on renewable energy and education, particularly math and science, while we are sapping our resources and our precious blood in wars in Afghanistan and Iraq. Thank you very much, Mr. President. Tell this cowboy you are saving your candy for the president that brings our soldiers home. We can't afford to be the world's federal marshal.

• Christine O'Donnell. This perfect Halloween costume comes with a broom and a pointed hat. She doesn't look like a witch, but O'Donnell, the Delaware Republican nominee for the U.S. Senate, would haunt the Senate and those voters who sent her there. She concocted a fictitious resume, has failed to pay taxes, is the subject of a complaint that she spent campaign donations on her own living expenses, and has admitted to dabbling with witchcraft.

Discard those old Batman and Superman capes. I've got some new hero costumes for you to wear:

• Michael Crowther. This creative director of our Indianapolis Zoological Society brings the world to Indianapolis every two years when the zoo awards the Indianapolis Prize and the Lilly Medal to an individual animal conservationist who has made significant achievements in advancing sustainability of an animal species or group of species.

• Michael Feinstein. A five-time Grammy-nominated singer/songwriter and pianist who has sold millions of albums has agreed to be the artistic director for the Center for Performing Arts in Carmel. He has purchased a home in Carmel and has promised to bring the world's greatest entertainers to our doorstep.

• Theodore Boehm. This 2010 Michael A. Carroll Award winner has provided his creative vision and wisdom to our community for more than four decades and recently retired as Indiana Supreme Court justice.

HAPPY HALLOWEEN.•

__________

Maurer is a shareholder in IBJ Corp., which owns Indianapolis Business Journal. His column appears every other week. To comment on this column, send e-mail to mmaurer@ibj.com.