As a player, Larry Bird was one of the best clutch shooters in the National Basketball Association. As a coach, he took the Indiana Pacers to the NBA finals in just his third year.

But as the team's president of basketball operations, the French Lick native still has much to prove. And this year may be his last shot to show that his skill assembling a team is on par with his talent as a player and coach.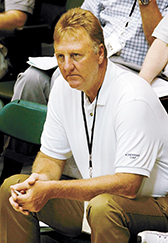 Larry Bird (Associated Press photo)
Bird is entering his eighth year in the team's front office. It's the last year of his contract, and while team President Jim Morris and owner Herb Simon say Bird has their support and confidence, there is no shortage of people around the league who think the Pacers' on-court performance must improve for Bird's reign to continue.

Morris said he and Simon will sit down with Bird at the conclusion of this season to discuss his future with the Pacers.

"It's my desire for Larry Bird to stay on as long as he would choose to do so," Morris said.

Still, recent criticism of Bird among Pacers fans and NBA insiders is difficult to ignore.

Bird was ranked as the worst basketball operations director in the 30-team league by Mike Prada, who covers the NBA for SBNation.com, a popular national sports website.

"Why is Larry Bird the worst? Because Indiana hasn't had a coherent long-term plan for over half a decade now," Prada said. "Sure, the Pacers were dealt a tough hand when the 2004 brawl ruined a championship team, but that's no excuse for the team's disinclination to rebuild."

Morris said he and Simon are pleased with Bird's draft selections during the last three years and his decision to retain coach Jim O'Brien for a fourth season. Bird has taken arrows from fans and sportswriters on both of those issues.

"He doesn't deserve it," Morris said. "From where Herb and I sit, we can see how hard he's worked and that every move he's made has made the Pacers better."

But even some Bird supporters are second-guessing him.

Mark Montieth, who covered the Pacers for The Indianapolis Star for 12 years and now hosts a sports talk radio show on WFNI-AM 1070, questioned Bird's re-signing of coach Rick Carlisle to a contract extension in 2006, only to fire him in 2007. He also wonders why Bird did not draft a much-needed point guard in the point-guard-rich 2009 draft and why he retained coach Jim O'Brien despite three losing seasons. The 2004 (David Harrison) and 2006 (Shawne Williams) first-round draft picks were also a bust, Montieth said.

Bird's latest gaffe might have been drafting Lance Stephenson in June. Stephenson, who is highly talented but has a checkered past, was charged with domestic battery in August. Stephenson is due in court in New York on Feb. 25.

Overall, though, Montieth gives Bird a passing grade for guiding player personnel under trying circumstances.

"If you really know what you're talking about, if you follow this sport closely, you know he's doing a better job than people give him credit for," Montieth said. "When you have to dismantle a team piece by piece, it takes time. In addition to that, few team executives have dealt with near the challenges and adversity that Larry Bird has. And he's done it all with few complaints."

Why the negative image?

Montieth said instead of giving Bird a pass because of his storied career as a player, local fans seem to be harder on him "because he's Larry Bird. People sometimes like to build someone up to tear them down. It's difficult to figure out."

Bird, who declined to be interviewed for this story, may add to his image problems by shying away from fans and media.

"He just has this withdrawn personality and he doesn't come across very well on TV. He often doesn't look happy, and I think that projects a negative image," Montieth said.

His quiet nature shouldn't be mistaken for arrogance, said Bob Ryan, a Boston Globe sports columnist who was the Boston Celtics beat writer during Bird's playing days.

"As a player, he had a delightful arrogance, a swagger," Ryan said. "But arrogance is a word I have a very hard time attaching to Larry Bird in his executive capacity. This is a guy who simply loves his Indiana heritage. He has always loved his roots and is very respectful of that. He just wouldn't be arrogant with Pacers followers."

Ryan said Bird has always been wary of media, dating back to his days at Indiana State University.

"He never liked people looking into his personal life or his family," Ryan said.

"It took him quite a while to come to grips with the fact that he's a public figure," said Ryan, who penned Bird's biography in 1989. "He's a guy who's never liked to stand in front of a microphone, never sought the spotlight."

Not talking about family is one thing. But refusing to talk to the media about his current plans for the Pacers is another. Bird didn't even address the media during the team's media day last month.

"Eventually, you have to stand up and be accountable," said Dean Bonham, former Denver Nuggets president and owner of a sports marketing firm in Colorado.

"You have to address your customers, the people who pay your salary. Working hard and being busy are fine. But going underground is not acceptable and rarely leads to an enhanced image. He may not care about his own image, but surely he cares about the image of the team he represents."

There may be another reason for Bird's shyness.



NBA observers say Bird's reserved, respectful nature is why he refuses to lay any blame for the team's poor fortunes of late on former Pacers President Donnie Walsh, who hired Bird as his successor in 2003, then departed in 2008 to lead the N.Y. Knicks.

"The thing about Bird's early years in the team's front office is, you couldn't tell who was responsible for what," Montieth said. "Donnie had done a good job, but when he left, most agreed it was time for one voice."

"He's one of the most truthful guys I've ever worked with," Ryan said. "That may have something to do with his hesitancy to talk. He knows he'll be truthful, and there may be some things he simply doesn't want to talk about."

Long, hard fall

After hiring Bird, Walsh turned the team over to him and focused on the overarching business of Pacers Sports & Entertainment. But after the 2004 brawl in Detroit, Walsh jumped back in, handling all the trades and giving input on some draft selections.

Bird had no shortage of early challenges.

"In a relatively short time, Reggie Miller retired, Ron Artest makes a trade demand, Jermaine O'Neal and Stephen Jackson want out, and he had to deal with Jamal Tinsley," Montieth said. "Not all those things were his fault. I give him credit for being patient and taking the heat."

It's been a long, hard fall for the Hoosier hoops folk hero.

"He's still Larry Legend here to a lot of people," said Milt Thompson, president of local sports marketing firm Grand Slam Cos. and a former NBA players' agent. "But he's also taken a lot of arrows since he joined the Pacers' front office. Is all the criticism justifiable? I'm not sure that even matters. The fact remains, there's no shortage of people who will tell you this happened on Larry's watch. And to a degree, they're right. For others, the jury's still out."

The fall has been difficult to watch for many Pacers followers.

"Everybody loved him during his playing days, even when he played for the Celtics," said Danny O'Malia, a former grocery store executive and Pacers season-ticket holder since 1967. "When Larry Bird became [Pacers] coach, our favorite son had come home. He wasn't just another hired gun.

"Many loyal Pacers followers still love Bird," O'Malia added. "But what can you say? The record speaks for itself. And right now, his record isn't very good."

Since Bird joined the Pacers' front office, the team's regular-season record is 285-289, while average home game attendance is 15,100. The last three years, the team has lost millions of dollars, while teetering between 32 and 36 wins a year, well below .500, and averaging 12,221 to 14,202 fans per home game, among the league's worst.

Crunch time

There's still time for redemption, but even many of Bird's ardent supporters agree he's facing crunch time.

"He's the guy now, and he has to bear the responsibility of the condition of the team," Ryan said. "That's the business, and he knows it. He's also aware that a team's fan base will only be patient so long. Time doesn't stand still for anyone in this sport. Not even a legend."

But Ryan thinks Pacers brass and fans would be foolish to not give Bird at least two more years to turn things around.

"During his playing days, if I could have picked out one player to be a great general manager, a Jerry West type, it was Larry Bird," Ryan said. "He has the savvy and the judgment. And he never mailed anything in."

The season that tips off Oct. 27 at San Antonio marks the third year in Bird's three-year plan to clear cap space and overhaul the roster.

In June 2008, the Pacers made two major trades, sending star forward Jermaine O'Neal to Toronto for T.J. Ford, Rasho Nesterovic, Maceo Baston and the 17th pick in the 2008 draft.

Bird was able to unload O'Neal's enormous contract, which called for $44 million in payments over the next two years. Bird also was hoping to get some building blocks for the future, but other than Roy Hibbert, who was taken with the No. 17 pick, nothing else panned out.

This summer, Bird brought in his longtime friend and former Boston Celtics teammate, Bill Walton, for a week-long one-on-one training camp with Hibbert in hopes of making the draft selection pay dividends.

The second deal was a draft-day trade that sent the No. 11 pick (Jerryd Bayless) and Ike Diogu to Portland in exchange for the No. 13 pick (Brandon Rush), Jarrett Jack and Josh McRoberts.

In 2009, Bird drafted All-American Tyler Hansbrough and in June drafted Paul George, a talented yet unproven player. Both are wait-and-see prospects.

Also this off-season, Bird traded Troy Murphy to New Jersey as part of a four-team deal for highly regarded guard Darren Collison and James Posey.

"I like the Collison acquisition," SB Nation's Prada conceded. "But he still needs a couple more pieces. A lot depends on what he can do this upcoming off-season. His career—and legacy—may be riding on it."

Players love Bird

The one thing Bird doesn't have to worry about is his players' allegiance. Collison said this summer after joining the Pacers that he was thrilled to play for a team led by Bird.

Even players who have parted under less than ideal circumstances praise Bird. Artest, who now plays for the L.A. Lakers, said one of his biggest regrets was letting Bird down and said he'd welcome the chance to play for him again. David Harrison, who was let go by Bird in 2008, later said he'd "play for Bird for free."

"No one wanted out of Indiana due to Larry Bird," Montieth said.

Bird long ago ensured his place in the NBA Hall of Fame. But those close to him say he won't be happy unless he's able to finish this final chapter the way he wants, the way he began in this league—as a winner.

If Morris makes good on his promise, Bird might get that chance. After a number of roster moves, the Pacers are due to clear $32 million in salary cap space after this season. With a salary cap around $58 million, that should give Bird maneuverability to acquire a key free agent or two and retain his top players.

"Larry Bird has a plan, and he's spent every waking hour working on it," Morris said. "He's never been interested in a short-term PR gain to get a headline. He gets a lot of credit for being patient and putting us in the position that we'll be in for next season.

"He's brought this team back, and he's done it the right way."•