A new method of measuring radio listening habits has shaken up local station ratings, sending radio operators scrambling to re-evaluate formats and ad pricing.
The move from Arbitron Inc.'s old pen-and-paper diary system to the electronic Portable People Meter also has local media buyers and advertisers pondering, what's next?
"It's a mess," said Sue Doron, media director for EchoPoint Media, the media-buying arm of locally based ad agency Young & Laramore. "There are all sorts of stations switching ranking order. And these shake-ups are happening to stations that have held those positions for a very long time. It's requiring a complete re-evaluation of the way we buy radio."
Some stations such as WFMS-FM 95.5, the local country stalwart, have thus far held their own in the People Meter era, which was used for the first time in the ratings quarter ended Sept. 15.
Under the new system, some stations, including classic rock station WJJK-FM 104.5 and soft rock WYXB-FM 105.7, saw significant ratings increases, while stations such as WIBC-FM 93.1 and WHHH-FM 96.3 saw their ratings decline.
One of the more startling revelations of the new era is that WFBQ's "The Bob & Tom Show" slid behind WFMS for the No. 1 spot from 6 a.m. to 10 a.m., with WYXB close behind in third. WFBQ still ranks tops with men ages 25 to 54, one of its key demographics, but under the new measurement system, WFMS and WJJK have closed the gap among male listeners.
Country station WLHK-FM 97.1 also has closed in on WFMS in several demographic categories. And the Rush Limbaugh show on WIBC saw its ratings drop.
The PPM method of tracking ratings, which is thought to be more accurate, has been introduced in 33 U.S. markets since 2007 by New York-based Arbitron, and in July was rolled out here and in nine other midsize markets, including Milwaukee, Wis.; Orlando, Fla.; and Austin, Texas.
The average radio listener under the old diary system reported listening to an average of 3.5 stations per day. The new PPM data shows the average listener actually listens to an average of 6.5 stations.
"That means the ratings are compressed, and stations are grouped a lot closer together," said Bruce Bryant, president of locally based Promotus Advertising. "It requires digging a lot deeper into demographic data to make sure an advertiser is reaching the audience it wants. It may also mean that advertisers choose to advertise on more stations and not just the top two or three."
The PPM shows just how quickly a listener will tune out.
"As a company, nationally, we've been studying PPM for more than two years," said Chuck Williams, local market manager for Maryland-based Radio One, which owns WHHH and three other local stations. "We've definitely made adjustments to our programming to tighten it up. We've learned that instead of having 30 seconds to retain a listener, we have three seconds to hook them."
Williams said the very things stations did to gain ratings in the diary system, repeating call letters numerous times to improve listeners' recall, are some of the things that drive listeners away—at least temporarily—in the PPM system.
Local officials for Clear Channel Radio, which operates WFBQ, WRZX-FM 103.3 and WNDE-AM 1260, aren't prepared to hit the panic button just yet.
"It's just been one quarter, and it takes some time to get the new meters in place and for ratings to settle a little bit," said Rick Green, local market manager for San Antonio-based Clear Channel. "It's going to take a minimum of six months to get a real handle on what this new system means."
Country, soft rock make gains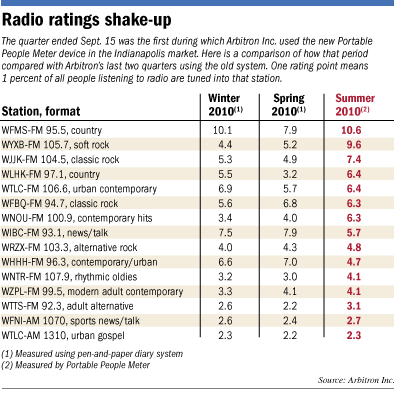 Some trends are worth noting, said ad buyers. More people in this market are listening to country music and soft rock than reported in the diary system. Country is the No. 1 format, with just more than 17 percent of the audience tuning in. Soft rock—or adult contemporary—increased its share from about 11 percent to about 17 percent.
"I think the numbers reflect not only the broad appeal of adult contemporary, but also the number of offices and other places playing that music where people congregate," said Charlie Morgan, Emmis Communications Corp. market manager.
The urban audience has taken a hit, but many think that's because it's the hardest for Arbitron to reach with the new system.
"The younger and more ethnic audiences tend to move more and many don't have land [phone] lines," Williams said. "So it's a matter of working to increase participation levels."
The PPM was a mixed bag for Radio One. While WHHH declined, its contemporary hits station, WNOU-FM 100.9, saw a big increase.
Doron, the media buyer, said the switch, which took place here in the June-September quarter, is causing tumult. Already, she said, stations that saw ratings increases are raising rates, but stations whose ratings fell are not decreasing rates.
"I don't think the radio station managers know how to price advertising now, and the buyers are asking, 'What am I supposed to do?' Doron said. "We're all asking, 'Will the demand on their inventory change? Will buyers just sit back and pay what the stations want? Will there be a standoff? Who will break first?'"
Advertisers told to relax 
Arbitron officials are urging ad buyers to take a deep breath.
"The radio listening audience has not changed," said Arbitron spokeswoman Jessica Benbow. "The PPM is simply a different way of measuring that audience."
"It still alters drastically the whole landscape," Doron countered.
The new pager-size PPM device, worn by users, tracks radio-listening habits in real time. The PPM is designed to be a radio listener's third ear, and Arbitron officials want to make sure it goes where the ratings survey participant's other two ears go. There is no off switch. The PPM must be clipped onto the person's clothing or purse to be activated, and is programmed to shut off if it doesn't detect the slightest movement for certain lengths of time.
The more survey participants carry the device, the more they get paid by Arbitron. When survey participants sleep, the PPM is placed on a mechanism that recharges the battery and downloads information to Arbitron's headquarters. One big advantage is the data can be passed along to radio stations and ad buyers much more quickly than in the past, and it doesn't rely on listeners' memories like the diary system.
The new system has caused considerable upheaval in other Midwestern markets where it's been introduced.
In St. Louis, where the PPM was rolled out in September 2009, adult hits station WARH-FM knocked KMOX-AM from its decades-old perch as the No. 1 station in the market. Less than two months after the PPM was introduced there, classic rock station K-HITS 96 fired well-known morning talk show personality J.C. Corcoran, citing low ratings following the introduction of the system.
The ratings tumult comes as radio stations across the dial already face a difficult environment. Many advertisers, including auto manufacturers, banks and retailers, are pulling back. Nationally, total radio ad spending in 2009 fell about 14 percent, according to New York-based research firm TNS Media Intelligence.
While the PPM is designed to give radio operators more data to help with programming decisions, it also will cost stations significantly more. Though Arbitron officials declined to discuss pricing, industry insiders said data from the new PPM system will cost three to four times more than data from the diary system, potentially equaling a six-figure price increase annually for station operators.•
Please enable JavaScript to view this content.