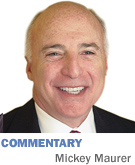 I have paused again in the midst of my series on the 10 essential principles of entrepreneurship that you didn't learn in school. I promise to complete that series with the next two columns.
__________
In the post-election insert of the Nov. 3 Indianapolis Star, a headline under the section titled Marion County Prosecutor, read, "Taking down the for sale sign." Trashing Carl Brizzi, the current Marion County prosecutor, was de rigueur for both candidates, Terry Curry and Mark Massa, during their hard-fought political race, but this character assassination was published after the election and carried a strong implication that Brizzi and his office were taking bribes.

Perhaps the pronouncement quoted by the Star was delivered by the winner in the exuberance of an election-night victory, but it has no place in civilized society, particularly post-election. Please note that Brizzi has never been indicted.

Brizzi has been Marion County prosecutor since 2003. He chose not to run for a third term, and he will be out of office and no doubt public life in January, a distressing turn for Brizzi, who had at one time encouraged speculation that he would follow in the footsteps of another Marion County prosecutor, Stephen Goldsmith, and run for mayor of Indianapolis. Brizzi's transgressions and judgment lapses have been dutifully noted and thoroughly discussed.

I'm going to miss Carl Brizzi. I had expressed to him frustration over the general lack of interest in prosecuting fraud against the banks in our community. I reminded him that robbing a bank with a gun is always prosecuted but robbing a bank by fraud is often not. Brizzi promised to fight white-collar crime and he did. He won a number of convictions.

Brizzi personally tried at least two important cases. Desmond Turner was convicted of seven counts of murder for the brutal slaying of the Covarrubias family. Turner was sentenced to life in prison without parole. Brizzi also tried Brian Reese in the attempted murder of IMPD Officer Jason Fishburn. Fishburn was shot in the head and nearly died. The Reese trial took place in Porter County and lasted nearly two weeks. It concluded with the jury convicting Reese of attempted murder. He was subsequently sentenced to 59 years in prison.

The Prosecutor's Office employs 160 attorneys and files approximately 40,000 cases each year on a budget, including the child support division, of $22 million. Just a little more than half of that comes from county tax dollars while the remainder of the budget is paid for by pretrial diversion, deferral, forfeiture and grant revenue. This is money that is sought by the Prosecutor's Office to reduce the local tax burden and shift some of the cost of doing business to those who use the system. Brizzi has increased the use of these funds and decreased the reliance on county general funds. According to statistics released by the Prosecutor's Office, from 2007 through 2010 the portion of the budget that is not derived from county tax dollars has increased 15 percent.

Brizzi's office has earned an 80-percent jury trial conviction rate and his conviction rate in narcotics cases was 90 percent, both well above the national average. Perhaps being raised by a single parent, Brizzi knows the importance of child support. Collections for child support went up every year in his administration.

More than 80 sexual predators were snagged in Brizzi's assault on Internet targeting of children. Because of the Brizzi initiatives, adult men looking to hook up with under-age girls ended up sharing a cell with middle-age men.

Brizzi has made some bad choices and has tarnished what could have been judged an extraordinary career in the Prosecutor's Office, but he never lied or failed to disclose any of his outside activities. He is entitled to finish his term with his dignity intact. I wish him well in his future endeavors.•

__________

Maurer is a shareholder in IBJ Corp., which owns Indianapolis Business Journal. His column appears every other week. To comment on this column, send e-mail to mmaurer@ibj.com.