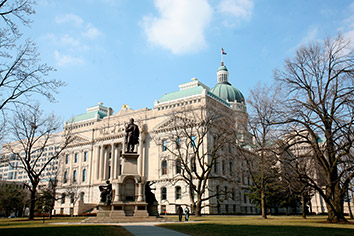 At a time when most state agencies are dealing with frozen or shrinking operating funds, Indiana's human services agency wants state budget writers to raise the appropriation for local welfare offices by more than half in each of the next two years to deal with the growing number of people seeking benefits amid the economic downturn.
Secretary Michael Gargano of the Indiana Family and Social Services Administration asked the State Budget Committee this week to raise the funding for local welfare offices by 58 percent — from $56.5 million to $89.1 million for the fiscal year that begins next July 1. He asked for $93.8 million for the following year, a 66 percent increase over current funding.
The extraordinary funding request reflects the growing demand for Medicaid, food stamps and other welfare benefits processed by the Division of Family Resources, mostly in local offices in each of Indiana's 92 counties.
Since June 2008, about six months after the recession began and shortly after the division outsourced most of its staff to Dallas-based Affiliated Computer Services Inc. and other vendors, the number of case workers employed by the division and the vendors has grown by 433, or 19 percent, according to materials FSSA distributed to the budget committee on Wednesday.
The increase partly reflects FSSA's move to add case workers to provide more personal contact for welfare clients stymied by the call centers, document imaging, and online application site that IBM Corp. introduced under a contract canceled by Gov. Mitch Daniels in October 2009.
"A lot of it is also driven by the increased number of applications," Gargano told The Associated Press as he left the budget hearing.
The number of welfare applications grew by nearly half from 765,000 during the state fiscal year that ended June 30, 2009, to 1.1 million two years later, a period when Indiana's double-digit jobless rate was among the highest in the nation.
The hiring of more case workers, mostly at ACS and other former IBM partners who now work directly for FSSA, came at a time when most sectors of state government have seen budgets and staffing shrink from state tax revenues shortfalls. The local welfare office funding fell drastically from 2008 levels during their period, making its new budget increase request appear higher than it normally would be had the funding stayed constant.
Any request for a larger piece of the state budget receives close scrutiny from the budget committee during these lean times, and Gargano's was no exception. Gargano assured panel members the extra case workers were making a difference.
Rep. Suzanne Crouch, an Evansville Republican who had been critical of the welfare intake under the IBM contract, agreed with him.
"I'd say it's working as it should have," said Crouch, who will be the vice chairwoman of the Indiana House Ways and Means Committee when it begins work on a new two-year state budget next year.
Because of criticism from Crouch and other Evansville-area lawmakers, FSSA chose 10 southwestern Indiana counties to pilot what it dubbed the "hybrid solution" to the welfare intake problems, adding more case worker contact with clients to the automation that IBM had introduced. The hybrid system began there in January and expanded to 11 west-central counties in June. FSSA took it to 16 southern counties in September and hopes to get federal approval to take it to the remaining automated counties in northeast and north central Indiana in February.
The IBM automation never made it to 33 counties in northwest, far northern and central Indiana that include Indianapolis, Gary, South Bend and Elkhart and the state's largest welfare caseloads. Gargano said he hoped to bring the hybrid solution to most of those counties by June and to the remaining counties, in central Indiana, by the end of 2011.
Gargano said welfare application backlogs have fallen in every region of the state, in most cases by more than 70 percent from a year ago. Indiana's negative food stamp error rate, which measures whether the state has correctly denied, suspended, or terminated benefits, fell to 2.5 percent in May, down from 14.5 percent a year earlier and better than the nation as a whole.
Asked by House Ways and Means Chairman Jeff Espich, R-Uniondale, if the hybrid was succeeding in fixing Indiana's welfare problems, Gargano didn't hesitate. "Absolutely," he said.
Please enable JavaScript to view this content.