Last year, the Indiana Repertory Theatre's snow-covered "A Christmas Carol" went through a downsizing, turning the sprawling, populous production into an hour-and-a-half, no-intermission show that proceeded at a brisk pace but still took time to savor the details of Charles Dickens' story.
Scale may have suffered a bit in the belt-tightening, but the show emerged as one better suited to annual viewings.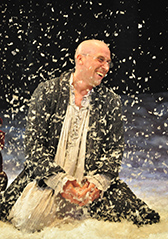 Ryan Artzberger gives Scrooge a new look at IRT's "A Christmas Carol." (Photo Courtesy Indiana Repertory Theatre)
This year, that same production is back, although with a major change in the cast. Longtime Scrooge Charles Goad has left the role, turning it over to Ryan Artzberger, a familiar face from the IRT and other area stages.
But such roles as the mourning father in "Rabbit Hole," the troubled Mercutio in "Romeo and Juliet," and the angst-ridden dumped lover in "Reasons to Be Pretty" aren't necessarily prerequisites for the miserly archetype. And in what seems an attempt to alleviate the actor's
relatively youthful appearance without resorting to a wig, his head has been shaved—which doesn't help age Artzberger but does give his noggin a sometimes distracting two-toned appearance.
Once you get past the notion of a Scrooge who looks like he could be in grad school, Artzberger gives interesting depth to the part, particularly in the final, joyful conversion scenes. The production also features strong work from returnees Mark Goetzinger (whom I miss as Marley's Ghost), Jerry Richardson as a spot-on Bob Cratchit, Constance Macy as Mrs. Cratchit, and Jennifer Johansen as a particularly gruesome Charwoman.
It seems like every year I find myself praising the design of this show, but I still find that there are people who have yet to see it. Consider that a nudge to take advantage this holiday season.
__________

This year's edition of "A Beef & Boards Christmas" has undergone tweaks as well.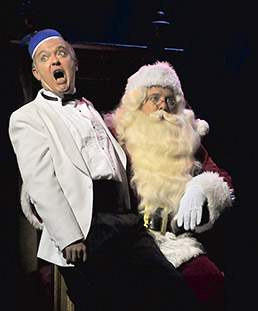 Funnyman Eddie Curry, left, hosts this year's edition of "A Beef & Boards Christmas." You know the other guy. (Photo Courtesy Beef & Boards Dinner Theatre)
Eddie Curry, usually playing Scrooge in B&B's "A Christmas Carol," forgoes the visiting spirits and, instead, takes on the role of wisecracking announcer for a cavalcade of musical acts reminiscent of televised Christmas variety specials of yesteryear.
This time, some segments don't play as well. The Chipmonks (who have to hold onto their oversized heads whenever the choreography demands that they jump) are back, as is the awkwardly flying Rudolph. A truncated nativity scene seems dropped in and the reading of the "Yes, Virginia" letter doesn't quite gel, but having the musicians on stage on a revolving bandstand helps considerably—and gives Curry a target for verbal jabs. Taking similar digs at the singers isn't as funny.
That's because the vocalists are strong throughout. They include Christine Mild, a standout from last month's "White Christmas," and Christopher Dickerson, reprising his "O Holy Night" from the 2009 version. Kudos, too, to John Vessels, who demonstrates serious musical chops in "A Christmas Song" and is also a hoot giving a moonshine-fueled version of "All I Want for Christmas is My Two Front Teeth."
I'm not sure which I liked more, the way Vessels exits a scene or the carved roast turkey from the buffet.
__________

Alas, there's little joy to report from "A Very Phoenix Xmas." For the fifth annual holiday outing, the Phoenix Theatre offers retreads of past sketches, songs and scenes. Some still work (Daniel Guyton's sweet "Death of a Snowman" and Richard Furlong's edgy "The Santa Sentence"), but most feel labored—a disappointment after last year's markedly improved program.
It doesn't help that explanatory notes are offered on a video screen before most segments, effectively killing momentum and giving the evening a faintly wake-like feel. Perhaps it was too soon for such a "greatest hits" program. Or perhaps some judicious cutting and a more thought-through linking device would have helped this hodgepodge evolve into a satisfying evening. Long-term cast members Michael Shelton and Gayle Steigerwald stuck in a meat locker flashing back to shows past, perhaps?•
__________
This column appears weekly. Send information on upcoming arts and entertainment events to lharry@ibj.com. Twitter: IBJArts and follow Lou Harry's A&E blog at www.ibj.com/arts.
Please enable JavaScript to view this content.