Question: Gov. Mitch Daniels has called for a "truce" on social issues in order to focus on fiscal issues. Do you anticipate social issues gaining traction in the upcoming General Assembly?
Answer: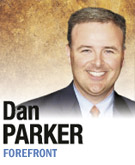 In recent years, a large portion of the debate on cable TV and in Washington, D.C., has centered on the role government should play in legislating so-called social issues. With the shift in power of the Indiana House to Republicans, our leaders are faced with a decision about what direction to take our state. Unfortunately, I am concerned Republicans will spend a large portion of the upcoming session concentrating on social issues.
With Indiana's high unemployment, the dismal state of our economy, and a $1 billion budget deficit, social issues should not be our biggest concern. As the New Year approaches, we are presented with clear steps that can help secure our fiscal future and ensure our state is competitive in the global economy.
Indiana was once a state on which others modeled their economies, but we are not the island of prosperity some thought we were. In fact, our economy is now worse off than when Gov. Daniels came into office and called our state "bankrupt."
We are in such a tough place economically that we actually owe the federal government nearly $2 billion for unemployment insurance. While this is an extremely important expense for struggling Hoosiers, Daniels' false rhetoric about creating a balanced budget is just that—rhetoric.
Indiana's unemployment rate sits at 10 percent and our leaders should be working to create jobs. Many Hoosiers don't have access to the well-paying jobs that were so numerous just a decade ago. Instead of rhetorical flourishes about prosperity, our state leaders need to evaluate why Indiana lags behind every Midwestern state in personal income growth.
While recent events reveal that President Obama's Recovery Act successfully stopped our nation from entering a second depression, we still face innumerable economic challenges. The signs of recovery are appearing and we have moved past the worst part of the recession, but we still have a long way to go.
One of the best ways we can create jobs here in Indiana is to provide employers with tax breaks when they hire workers. Unfortunately, recent reports indicate that tax breaks given by the Indiana Economic Development Corp. have not produced the jobs promised. The Legislature needs to create stronger oversight to ensure the companies who get these tax breaks actually create jobs.
While not obvious, job retention should be just as important to our leaders as job creation. Our Legislature needs to take steps to stop the outsourcing of Hoosier jobs to out-of-state companies. We need to give our Hoosier businesses and workers the tools they need to compete for contracts from their own state government.
How do we expect Hoosier businesses to be hired in other states when their own state won't hire them? We also need to stop giving contracts to some of the largest corporations from New York and Chicago and start giving them to good Hoosier businesses.
Finally, we need our state leadership to recognize and admit that the recovery act has done some great things for Indiana. First, our state budget was saved by the recovery act and Indiana's auto industry was helped tremendously by the efforts of the Obama administration that saved General Motors and Chrysler jobs. More Hoosiers now work in Kokomo, Marion, Bedford and Fort Wayne because General Motors and Chrysler have survived and are flourishing. And, President Obama has made promising investments that help ensure the next generation of the automotive industry has a home in Indiana.
If our state is going to recover from this recession and be a shining example in our nation, we have a lot of work to do. We must concentrate on the economic issues that face us and call a timeout on dealing with social issues.•
____________
Parker is chairman of the Indiana Democratic Party. Before his tenure as chairman, Parker was executive director of the party and Sen. Evan Bayh's state director. In 2006, Parker orchestrated the election of five Democratic congressional seats and in 2008 helped then-Sen. Barack Obama win Indiana, the first time the state went blue in 40 years.•
Please enable JavaScript to view this content.