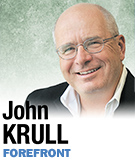 Not long ago, as we were talking over lunch about the education reforms the Indiana General Assembly will take up this session, a friend asked what it would take to get me on board for the school-choice movement.

"Show me the bus routes," I said.

He gave me a strange look.

"Explain," he said, and took another sip of coffee.

I told him I had become cynical about the fight over public education—a fight in which I once took an active part. It had become less a crusade to improve young people's lives than it had a way for entrenched interests—the business community and teachers' unions—to lob shells at each other. In the process, schools and students suffered a lot of collateral damage.

My own part in that fight had been instructive. A decade or so ago, when I was executive director of what was then the Indiana Civil Liberties Union, I debated one of the leading proponents of school choice, Clint Bolick, not once but twice.

We spent those debates arguing about constitutional issues—specifically, about whether tax dollars could be funneled to religious schools.

I came away from those debates convinced we weren't arguing the real issue. If vouchers or any choice approach were workable, schools that did not have religious affiliations—and the attendant subsidies from churches—would spring up to meet the demand.

The real problems were practical ones.

A little more than 15 years ago, Indianapolis Public Schools tried a modified school-choice program. In part because of pressure put on the system by voucher advocates, IPS gave students and their families the option to choose the school they wanted to attend within the system.

It was a disaster.

The school system's transportation budget exploded.

Transporting children to schools is difficult enough, even when all of them live in the same area and are going to the same school. Transporting students all over the district was impossible.

There were buses that carried only a student or two and covered 50 or more miles, round-trip.

The financial costs paled when set beside the human costs.

There were schools that were supposed to open at 8 a.m. and didn't start until 11 a.m. because the buses couldn't get the students there on time. Some students didn't get home until after 10 at night. There were instances in which students spent more time riding on the bus to and from school than they did in the classroom.

The response to this debacle was interesting.

Rather than roll up their sleeves and help IPS work through these challenges, the proponents of school choice fled from the experiment as if it were a communicable disease. No matter how much they preached accountability for everyone else associated with public education, they didn't want to be held accountable for an attempt to implement their theory.

Nor did it seem to change the debate.

If people of good faith are working through a dispute, they test their theories by putting them into practice. They then let experience guide them to modify their positions. They seek out common ground from which to build a workable compromise.

Common ground requires common sense. That is in short supply in political circles. Our leaders are more interested in defending their ideologies than figuring out ways to make government work.

There is a lot about a school-choice plan that is attractive. If it works, school choice will empower parents and make them feel more connected to their children's educational experiences. Anything that strengthens the chain linking parents, teachers, students and schools will be a welcome development.

To get to that point, though, we have to have a way to give all students the same opportunity. If we don't figure out a way to get students from single-parent homes or homes with two working parents to school and back, then telling them they have a "choice" is meaningless.

Show me bus routes that work and you've got me on board.•

____________
Krull directs Franklin College's Pulliam School of Journalism and hosts the weekly news program "No Limits" on WFYI-FM 90.1. Send comments on this column to ibjedit@ibj.com.