A software firm spun out of Eli Lilly and Co. has landed new private investment and may double its work force this year.

Indigo BioSystems raised nearly $2 million in equity last month, according to Securities and Exchange Commission records.

The money came from existing investors in the company, said CEO Raul Zavaleta, a local life sciences entrepreneur who has co-founded companies, including SciCor, which became Covance in the early 1990s.

"They want to keep it for themselves," Zavaleta said of the recent investment in Indigo, suggesting it amounts to a vote of confidence in the fast-growing firm that creates automated data analysis software for laboratories.

Among investors in the company are Dallas-based Evolve Capital Ltd. and The Stone Group, a New York private capital and financial advisory firm. Founder Jeffrey Stone is an Indigo director.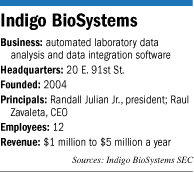 Indigo BioSystems, founded in 2004 by former Lilly scientist Randall Julian Jr., has also received more than $1.7 million in recent years from the Indiana 21st Century Research and Technology Fund.

The company now has 12 employees and sales of less than $5 million, though Zavaleta said he's confident the firm could double in size this year.

Sales of clinical lab hardware and software in 2010 were an estimated $5.4 billion, according to Kalorama Information's Lab Automation Markets report.

"We think we can address 20- to 30-percent of that market with our software," Julian said.

'Mass-spec' use expanding

Helping drive growth prospects is the increased use of mass spectrometry in clinical and other laboratory settings.

For years, mass spectrometry has been used in research such as in drug discovery efforts by pharmaceutical firms. The devices vaporize a sample of material and create ionized molecules, which can be manipulated by electrical fields.

Ions of specific biological molecules are isolated and broken into pieces by high-energy collisions, Julian explained. Because the fragments are specific to the particular molecule, they give scientists a precise way to measure substance quantities.

Monitoring selected fragments allows labs like the one Julian led at Lilly "to generate tremendous amounts of data from samples," he added.

The use of mass spectrometry is now growing more common in clinical labs—beyond analytical chemistry uses in drug discovery, because it yields so much more specific data than other techniques.

The trouble with this transformative technology, however, is that medium- to large-size commercial labs can run 3,000 samples per day and could drown in mass spec data. Julian, while at Lilly, sometimes had the luxury of taking several days or weeks to pore over data. But in the clinical lab setting, "that's totally unacceptable," he said.

"We looked at this and said, 'There's the opportunity.'"

'Game-changer'

What Indigo came up with was a sophisticated software platform that automates data analysis for laboratories, requiring less time and less human intervention.

One of Indigo's six clients is Indianapolis-based AIT Laboratories, which provides forensics, clinical and pharmaceutical testing. AIT became the first lab in the nation to use Indigo's automated approach to mass spec analysis in commercial operations that include daily testing thousands of blood and urine samples.

Last month, AIT's vice president and chief information officer, Ron Thieme, called the new system a "game changer" for how his company manages data in terms of efficiency and quality.

Many labs have complained there hasn't been an interface between the software used in their mass spectrometers and their lab's own IT system. To the extent Indigo bridges that gap, it could solidify its lead in the mass spec software market. That market also includes increased use of the devices in hospitals and even in pharmaceutical manufacturing operations, which are highly regulated for quality control.

Food safety analysis is another promising market, Zavaleta said.

But, he added, "Our vision is to focus in 2011 on the clinical diagnostic market and to make it a beachhead."•