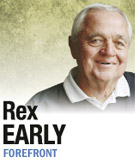 The political parties should go back to state conventions, for a couple of reasons: The way it's done now is too expensive and weakens the parties.

It takes a tremendous amount of money to buy name identification in a contested primary race.

Where does a lot of that money come from? Special interests and vendors or want-to-be vendors (certainly not from Little Sisters of the Poor).

In the 1996 Republican primary election for governor (which I lost, by the way), the candidates spent $12 million.

If that money had been spent in the fall election, the Republicans probably would have elected a Republican governor.

A contested primary and a fall race could cost as much as $20 million. How many people could raise $20 million?

A convention also strengthens the two-party system.

The party people are involved at a convention. With 2,086 delegates, every delegate is important in a contested race.

For years, we in Indiana nominated our state candidates at our party conventions. Those candidates were the U.S. senator, governor, lieutenant governor, secretary of state, attorney general, treasurer, auditor and superintendent of public instruction.

Since I became interested in politics, Sens. Homer Capehart and Dick Lugar, Govs. Harold Handley, Ed Whitcomb and Otis Bowen all were nominated at Republican conventions.

On the Democratic side, Sens. Vance Hartke and Birch Bayh and Govs. Matt Welch and Roger Branigin were nominated at Democratic conventions.

Things changed when House Speaker Republican Otis Bowen lost the nomination for governor to Ed Whitcomb at the 1968 convention.

Bowen did not take that defeat lightly, and after he was elected governor in 1972, he had the rules changed. The new rules put the nomination of the U.S. senator, governor and lieutenant governor in the primary elections. (In later years, the lieutenant governor was put back in the convention—because of the high cost to run a statewide campaign.)

In all deference to Bowen, neither he nor anyone else had any concept of the TV campaigns and their cost. In fact, the first $1 million campaign was Gov. Bob Orr's 1984 campaign.

To get nominated at the party convention, you will not be able to just stay in Washington, D.C., or Indianapolis. The candidates will have to reach out to the rank and file.

Gov. Mitch Daniels' campaigns blended his TV campaign with a grass-roots effort that included eating an estimated 273 tenderloin sandwiches in roadside restaurants in all 92 counties. It turned out to be worth it.

At the 2008 Republican convention, there was a great example of the delegates being heard loud and clear. We had two good candidates: Valparaiso Mayor John Costas and Greg Zoeller running for attorney general.

Costas had the support of the Marion County chairman, most of the state party members, and last but not least, the support of the tremendously popular Daniels.

Zoeller, on the other hand, had worked the grass-roots people. The delegates were not coerced, and Zoeller won.

The hot race on the Democratic side in 2008 was the primary for the governor's nomination.

They had a good candidate in Jim Schellinger—a successful businessman with good ideas. His opponent was Jill Long Thompson, who had name ID after being a congresswoman and a candidate for other offices. She won the primary. Schellinger would have been the better candidate in the fall.

As a candidate for your party's nomination, would you rather try to get a majority of 700,000-plus primary votes or the majority of 2,086 delegates?

Would you rather raise $7 million to get name ID in a primary or spend a few thousand at a convention?

You can buy name ID (it's expensive), but no one has figured out how to buy elected delegates. We should go back to the convention.•

__________

Early served in the Indiana House and as a Republican state chairman, as well as on the Republican National Committee. Send comments on this column to ibjedit@ibj.com.