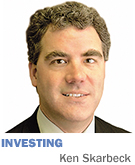 One of the interesting sidebars emanating from the revolutions in Tunisia and Egypt is the role social media played in these uprisings.

Facebook, the ubiquitous social Internet site, reportedly was a key communication tool used to share information and help mobilize the protesters.

Social media seems to be the talk (or, um, tweet) of the town these days. While hundreds of millions of people are using these tech media to interact with one another, the question investors are trying to answer is, what are these businesses worth?

Recently, Goldman Sachs attempted to organize a private offering, whereby Goldman clients and a Russian investor were to invest up to $1.5 billion in Facebook. The investments would have placed a total value on Facebook of $50 billion. However, following the intense media attention that surrounded the deal, Goldman decided to limit the offering to foreign clients only, out of fear that the publicity barrage might have compromised U.S. securities laws governing private offerings.

Obviously, the deal would have been a coup for Goldman, getting its clients involved as shareholders before a Facebook initial public offering and positioning the firm to earn a chunk of the immense underwriting fees a Facebook IPO would generate.

Already, the hype of the Goldman investment has sent Facebook shares soaring in the private market, according to secondary exchange firm SharesPost. Recent private-share trades have valued Facebook at $83 billion, or seven times higher than one year ago. Facebook's annual revenue is reportedly $2 billion and expected to double this year to $4 billion, valuing the business at more than 20 times revenue (Google trades for nine times revenue).

The investment premise is that Facebook, with 600 million users, can parlay its base into an online advertising giant. Internet tracking firm Experian Hitwise announced that Facebook recently surpassed Google as the Internet's most visited website, with 8.9 percent of World Wide Web visits.

With a host of Internet media companies waiting in the wings to go public, some discerning investors are questioning whether another bubble is forming. Messaging-service firm Twitter with 175 million users and $150 million in revenue has attracted multibillion-dollar takeover offers from both Google and Facebook. Social-buying site Groupon turned down a $6 billion offer from Google, and instead is raising nearly $1 billion from private investors.

LinkedIn, the Internet networking firm, recently filed for an IPO and is currently valued at $2.5 billion on SharesPost. Zygna, an Internet gambling business with close ties to Facebook, is privately valued near $7 billion. And Pandora, the Internet radio firm with 80 million users, also just filed for its IPO.

Valuations for social media firms are so high right now that some analysts are more apt to compare U.S. social media businesses to the valuations commanded by similar businesses on the Chinese stock market.

One thing is for sure—Wall Street is salivating at the prices these businesses will command when they do go public. Overwhelming investor demand is expected for social internet IPOs and that is likely to lead to frothy prices, which translates into bountiful fees for investment banks and bankers.

If $50 billion for Facebook seems outlandish now, wait until you see the price it will bring from the general investor. Caveat emptor.•

__________

Skarbeck is managing partner of Indianapolis-based Aldebaran Capital LLC, a money management firm. His column appears every other week. Views expressed are his own. He can be reached at 818-7827 or ken@aldebarancapital.com.