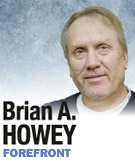 About a decade ago, I began asking this question: What do we need townships for?

Over the course of the past several legislative sessions, we've begun to get some answers.

The Indianapolis Star has reported that township reserves grew from $207 million in 2007 to $294 million in 2009. There are 161 townships with cash reserves of 200 percent of their budgets. The number of people receiving poor relief declined 192,000 from 2007 to 2009 despite the worst recession since the Great Depression. Two-thirds of 617 townships surveyed had relatives on the payroll.

The other thing that stands out is the thousands of pages of State Board of Account violations from any typical audit year. In 2008, I sifted through 4,000 pages of these violations. Dozens of townships don't file their annual reports.

I've evolved in my thinking on this subject. Initially, I believed that townships were a "layer of earwax" as former congressman Andy Jacobs Jr. described them several years ago. Certainly in urban areas like Indianapolis, we already have layers of city and county government that can do all the things townships do.

Apart from a pure efficiency standpoint, there's another aspect of townships that is woven into the state's fabric and that is the Jacksonian democracy that was in vogue during the days when Indiana's frontier expanded north from the Ohio River and onward toward Lake Michigan.

President Andrew Jackson was distrustful of centralized power and believed in governments close to the people. As Gov. Daniels points out, the 1,008 townships Indiana once had—1,006 now that two merged with Zionsville—were created so services could be extended to those walking or riding a horse. They needed to get back and forth to their homes in a day's time. That spirit is still alive in Indiana.

The problem with eliminating townships wholesale and thrusting their duties on counties is, well, Indiana's county system is hardly a font of efficiency. My original thoughts were to call a Constitutional Convention and use that platform to refine state and municipal government to reflect a modern 21st century society, as opposed to the 19th century one Indiana government now operates in. That is not going to happen.

What we hear from opponents of any kind of government reform is to localize referendums. Indiana got rid of all but a dozen township assessors several years ago. The risk here is the creation of a patchwork of government as opposed to any kind of consistent system.

My solution would be to create classes of counties, just like we have classes of cities. Urbanized counties like Marion and Lake could do away with townships since we have overlapping layers of city and county government.

Counties with one or two major cities could have their townships within the urban areas terminated. Townships serving rural areas would continue, but their numbers could be greatly consolidated. Howard County—home of Kokomo—has a proposal to reduce the number of townships there from 11 to five, matching existing school corporation boundaries. You could make an intellectual case that just about every county could consolidate their townships 75 percent and still serve the needs of a more rural population.

Township advisory boards—about 5,000 elected positions that most people don't know or care about—would be done away with. Townships would submit their annual budgets to the respective county councils for approval. The county councils would also ensure that all state reporting requirements are met. Nepotism would be outlawed and all positions advertised.

Such a reorganization would eliminate thousands of elected positions few people know. It would add to reporting requirements, checks and balances. It would end duplicative layers of government in financially strained urban areas.

The passage of property tax caps in 2010 makes it essential that Indiana government reform itself, preferably from the ground up.•

__________

Howey is a third-generation Hoosier journalist who publishes Howey Politics Indiana. Send comments on this column to ibjedit@ibj.com.