I vaguely remember watching, back in 1993, a "60 Minutes" story focused on how big-city, white art collector Bill Arnett exploited an illiterate black artist from rural Alabama. Morley Safer, the show's correspondent, seemed confident that he was revealing TRUTH, turning what had seemed like a profile of outsider artist Thornton Dial into an expose of Dial's manipulation by the art establishment. In the process, Dial's work took a hit in the eyes of the art elite.
That same artist's story—in much greater detail and with a greater appreciation for the complex relationship between Dial and Arnett—was told in "Mr. Dial Has Something to Say," screened a few years back at the Indianapolis International Film Festival. It chronicled how Dial, without an arts education and with limited knowledge of contemporary art, created striking sculptures that brought him close—very close—to recognition as a great American artist. And it acknowledged that, without Arnett—whom Dial defended—there would have been no bridge between Dial and the commercial art world.
Story over? Far from it.
The Indianapolis Museum of Art is anchoring its spring with the first
extensive retrospective on the life's work of this remarkable, singular artist. The show "Hard Truths: The Art of Thornton Dial" (through Sept. 18) proves that the IMA is fully capable of creating original, important exhibitions worthy of international attention. And that Mr. Dial has more than something to say—he also has an impactful, personal, revelatory way of saying it.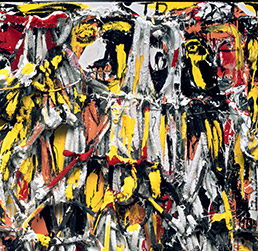 Thornton Dial's "Blood and Meat: Survival for the World" (detail above) confronts the horror and anguish of the assassinations of Martin Luther King Jr. and John F. Kennedy. (Photos Courtesy Indianapolis Museum of Art)
The controversy over Arnett's role in Dial's career is largely left outside the galleries. That's good, because, while the back story fascinates, in the end it's the work that matters.
As seen in 40 years of work in the IMA galleries, Dial's vision is dark, brooding and full of quiet anguish. Broken glass, splintered wood, twisted metal, splattered paint cans and discarded toys are all elements on his palette. Some works present as alternate-universe versions of I-Spy games, others evoke archeological finds. All have a tactile urgency, grungy depth and a sense that we are seeing a vision of the world through very personal eyes.
Even pieces such as "Out of the Darkness, the Lord Give Us Light" and "First Butterflies" betray their titles with only a hint of color and life. If I were a filmmaker looking for a cinematic look for Hell, I'd seriously consider bringing Thornton Dial to the design table.
The work is clearly connected in style, but with surprising variations. The apocalyptic "Lost Cows" features the actual skeletons—one with mirrored eyes—surrounding a leather golf bag. Automobile parts seem to emerge from the slime in "Mercedes-Benz Comes to Alabama." Tigers appear repeatedly as symbols of, as the companion catalog suggests, "black consciousness struggling to survive the tyrannies of racism."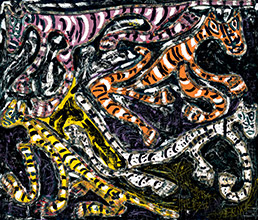 Thornton Dial's "All the Cats in Town" uses rope, carpet, oil and enamel to create a canvas that pops with the artist's iconic tiger images. (IBJ Photo/ Perry Reichanadter)
"The Last Days of Martin Luther King" suggests a cave painting, with its central figure—another tiger, here created from twisted mop rope—seeming to be absorbed into the canvas. "Green Pastures: The Birds That Didn't Learn How to Fly" sounds like the title of a children's story, but in Dial's hands, its soiled rags hanging on a copper wire speak not just of flying creatures but of the hard-worn gloves of physical laborers and the profound horror of lynching.
On that subject, "Strange Fruit: Channel 42" proves one of the most disturbing and least successful pieces in this remarkable show. It's powerful, for sure, with a clothed figure (including tie) hanging from a television antenna. But the title, the antenna and the television channels written on the spray-can tops that surround the figure draw an out-of-proportion parallel between the national horror that was lynching and what was done to Dial by Safer and his crew.
Our culture celebrates the authenticity of rural music, putting performers such as Muddy Waters and Robert Johnson on artistic pedestals. But we hesitate when it comes to visual artists who develop an esthetic without training by sanctioned institutions.
That could be because we trust our ears more than we trust our eyes to identify what is significant. And it could be that the art world has created a set of rules and codes that are more difficult to crack for those outside—especially for outsiders more interested in making art than in making a name.
Dial—and the IMA—have done an end run around those codes. In the process, we have a landmark exhibit worth visiting and revisiting.•
__________
This column appears weekly. Send information on upcoming arts and entertainment events to lharry@ibj.com. Twitter: IBJArts and follow Lou Harry's A&E blog at www.ibj.com/arts.
Please enable JavaScript to view this content.