Ball State University is conducting a nationwide search for a president to lead a not-for-profit it launched to boost the commercialization of the university's intellectual property.

Like many universities, Ball State has for years operated a technology transfer office that helps manage intellectual property developed by faculty, researchers and students. It also handles various IP licensing issues.

But the relatively new not-for-profit, Ball State Innovation Corp., aims to take the activities of the technology transfer office to a higher level. BSIC was created to enhance commercialization and its potential not only to bring more cash to the campus, but also for economic development and job creation in the region.

The university's board of trustees, when approving BSIC in late 2009, also envisioned its potential to help attract and retain research-oriented faculty and boost Ball State's scientific and academic reputation.

Since then, BSIC has had a relatively low profile. In the last 17 months, university officials have been busy clarifying internal IP and commercialization policies.

They've also conducted a more thorough assessment of IP that might be ripe for commercialization.

"The university has not been as focused on this" previously, said Terry King, Ball State provost and vice president for academic affairs. As a result, "we have given away a lot of intellectual property over the years."

One peculiar challenge of surveying IP potential at the state's third-largest university may be its feverish, campus-wide focus on technology and digital content.

Today, most every BSU discipline, from architecture to education, has embraced technologies such as wireless applications to create educational opportunities. Often, various departments collaborate on projects, potentially making it harder to coordinate commercialization efforts and to split royalties among various departments and participants should an idea evolve to the commercialization stage.

That's in contrast to, say, the medical school at Indiana University singularly developing a new therapy for lung disease with commercial potential, or Purdue University's College of Engineering pioneering a new material for use in transistors.

Some of Ball State's traditionally strongest programs, such as its nationally ranked entrepreneurship program, also aren't necessarily cranking out widgets or patents as much as they are conveying disciplines for small business success.

That's not to say such departments at Ball State can't be bigger players in commercialization.

King noted that two Ball State entrepreneurship students have been working with the U.S. Naval Air Surface Warfare Center in Crane to find commercial prospects for an artificial skin that military engineers developed for ballistics testing.

The students, as part of the "Military 2 Market" partnership with Ball State, are looking at the potential to sell the skin to medical schools as a more realistic material to teach suturing, for example.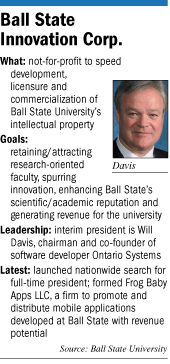 Or take Ball State's burgeoning reputation for creating films. The university doesn't have a film school, per se. But students and faculty across various disciplines have been winning national notice for commercial films, such as "My Name is Jerry," created in 2009. It won best soundtrack and Catherine Hicks, a member of the cast, won best supporting actress at the International Film Festival, in Kent, England.

Ball State, as King noted, has been more a "media savvy" university than one known for producing easier-to-commercialize widgets, per se. But BSIC's interim president, Will Davis, who is also chairman and founder of Muncie-based software company Ontario Systems, thinks the university can take advantage of commercialization opportunities by focusing on clusters.

For example, BSIC recently created Frog Baby Apps LLC to promote and distribute mobile apps developed within Ball State's various media-savvy departments.

Apps for wireless devices typically sell for under $10. So to come up with separate businesses for each relatively modest application would be costly and likely impractical, Davis said. But aggregating them under a venture such as Frog Baby changes the business dynamic.

Davis credits King for spurring the university to clarify its IP policies under BSIC. That will pay off if something like Frog Baby starts generating royalties that would need to be distributed among numerous individuals on campus that developed the apps.

King said licensing technology is often easier for universities than creating actual businesses spun out from research. A chemical engineer by trade and former head of Kansas State University's Department of Chemical Engineering, King has a number of his own patents. But getting a professor to look beyond licensing a technology—to actually creating a business plan and finding financing—is often more daunting. He wants BSIC to help.

There also remains a sentiment in some academic circles that business is a tawdry element that should be kept at a safe distance from the classroom. That sentiment has diminished a bit as universities grapple with budget cuts and see commercialization as a potential savior, of sorts.

At Ball State, Davis said he's received good feedback from faculty about the potential for commercialization.

"Businesses will pay you to take your great ideas around the world if we can market it appropriately," he added.

As for the dollar potential BSIC could help generate at Ball State, "I have no idea," he said. "It's less predictable than throwing darts at the stock market."

Annual royalty income for BSU currently is "something less than $1 million," he estimated. Compare that with Indiana University's not-for-profit IU Research and Technology Corp., which recorded upwards of $14 million in tech licensing/commercialization income in its most recent fiscal year.•