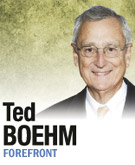 A few months ago, I outlined the hidden costs of gerrymandered legislative districts that are not only unfair, but produce polarized legislatures lacking centrists, mediators and compromisers and too much money flowing to incumbents regardless of their performance in office. Despite widespread agreement that districts designed to immunize incumbents from the voters are a bad thing, there is less consensus as to what to do about it.
Indiana House Speaker Brian Bosma and Rep. Jerry Torr recently proposed amending the state Constitution to create an independent commission composed of respected citizens from a variety of backgrounds. Their bill is short on details, but their basic approach is sound.
Currently, state legislative districts and congressional districts are created by statutes enacted by the Legislature. Proposals to eliminate gerrymandering take two basic forms.
One approach is to try to write guidelines on the way maps are drawn. Examples are requirements that legislative districts be compact and regular in shape; follow existing political and natural boundaries—county and city limits, rivers, etc.; and recognize "communities of interest," such as concentrations of ethnic populations and areas with common economic interests.
A second approach is to remove the map drawing from the Legislature and give it to a neutral body.
Either approach may be attempted by legislation or set in stone by placing it in the Constitution.
A statutory commission could be charged with proposing a plan, but under the current Constitution, the Legislature would still be required to enact it. A temporary legislative fix is desirable, but any statute can be overridden by subsequent legislatures. So a constitutional amendment is the best solution.
Some are concerned that a constitutional amendment will fail because it requires voter approval. California and Ohio voters recently rejected initiatives attacking gerrymandering.
However, that experience should not deter pursuit of an Indiana constitutional amendment, because those initiatives also addressed other issues that drew opposition.
The political impact of an Indiana constitutional amendment that will first affect elections in 2022 will be uncertain. And Indiana voters have shown a willingness to accept the judgment of two successive General Assemblies, particularly on complex issues of governmental structure.
A commission is preferable over an attempt to write substantive rules of map-making for future legislatures. The goals—fairness, compactness, adherence to boundaries, recognition of communities of interest—do not lend themselves to precise measurement, and sometimes conflict with one another. Any objective standard of compliance with these requirements would be arbitrary and unworkable in practice.
Largely for this reason, although gerrymandering can violate the federal constitution and some challenged maps were obvious schemes to protect either all incumbents or a partisan majority, no federal court has found a map to be bad enough to be invalidated.
Despite their lack of precision, goals should be in the Constitution as aspirations, if not rigid rules. The composition of the commission should also be set out either by dividing its appointments or by describing the members' qualifications. Although there is no one right answer to the "best" map, a group of respected citizens charged with drawing fair maps will take that obligation seriously.
Fair redistricting is possible. Compare the court's districts for the Indianapolis City-County Council with the partisan proposals of the parties at the end of this opinion: http://www.in.gov/judiciary/opinions/pvb/PetersonBorstOpFinal.pdf.
Some districts are necessarily geographically larger than others due to differences in population density, and some irregular shapes are necessary to accommodate legitimate boundaries. But it's easy to see the relatively squarish shapes produce more easily understood districts. They will still create some districts heavily favoring one party or another, but some will also be truly competitive.•
__________
Boehm is a retired Indiana Supreme Court justice who previously held senior corporate legal positions and helped launch amateur sports initiatives in Indianapolis. Send comments on this column to ibjedit@ibj.com.
Please enable JavaScript to view this content.