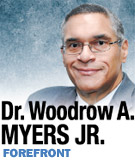 The year was 1918. Nineteen-year-old Joseph Tyler worked in a coal mine outside of Terre Haute. It was hard, dirty work, and it was not safe. Somehow, his leg got trapped in some mining equipment and it had to be amputated. The mining company thanked him for his service with a check for $500.
He was never able to find another full-time job. No one in Terre Haute would hire a one-legged African-American former miner. There was no health insurance to pay for the revision of his stump after it became infected. Nor was there medication to treat the hypertension which, in 1950, when he was 51 years old, resulted in a stroke and his death.
That is why I never met my grandfather, for I was born several years later. He and his fellow miners had no union to protect them, to advocate for safety in the mines, to fight for health care, and to ensure that those injured on the job received the proper treatment and the appropriate benefits.
I've been a business leader most of my career. My company is a member of our local chamber of commerce, and I'm about as pro-business as anyone can be. But that does not require me to be anti-union.
I have worked with the leadership of a number of unions—including District Council 37, Service Employees International Union 1199 and the Teamsters—while commissioner of health in New York City, and the United Auto Workers and many others while directing health care management for Ford Motor Co. I've been a part of a number of negotiations, and they were tough (if not grueling) and we never got everything we wanted. But we always made progress.
Unions are there for a good reason: Management has not always respected the talents and the rights of workers. And far too often, management has been willing to shift the consequences of bad business decisions to the backs of the work force while not readily sharing the economic successes of the enterprise with the people most responsible for creating that success.
Not all unions are the same, and clearly some need to evolve with respect to issues of automation, work rules and seniority. That is why the key is collaboration and creating win-win scenarios. There is no better example than Ford, which, with the help of the UAW and its other unions, never took a bailout from the government and created what everyone today says is the most successful turnaround in the history of an industry.
So why now are governors and legislators in Indiana and other states attacking public-sector unions as the cause of our states' economic woes and touting anti-union solutions that include the elimination of collective bargaining?
This coordinated strategy reeks of "overreaching" from those whose policy positions rarely earn the political support (and votes) from union members. They seem to prefer elimination over negotiation, and think that now, after the 2010 midterm elections, there might be a political window to accomplish their mission.
I believe they are wrong, and they are wasting time and energy better spent on solving old problems than causing new ones. We need both management and labor to grow the economic pie. And when workers want to organize to protect their pieces of that pie, it is their right to do so.
My Uncle Nelson Tyler (one of Joseph's sons) began work as a "molder" in the Terre Haute Malleable in 1947 at age 20. It, too, was hard and dirty work. He retired in 1989 after 42 years on the job. He is now 84, has a number of health problems (under excellent management by his physicians), and lives comfortably in Terre Haute, where he enjoys his many children, grandchildren and great-grandchildren and still receives his pension and other benefits.
He was proud to tell me that he served as treasurer of his union, and that it protected him and his co-workers quite well those 42 years. Fortunately for Uncle Nelson, "like father, like son" did not apply.•
__________
Myers is a former chief medical officer for WellPoint Inc. and served as health commissioner for Indiana and New York City. Send comments on this column to ibjedit@ibj.com.
Please enable JavaScript to view this content.