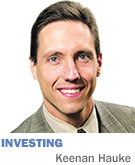 The Japanese stock market started selling off as soon as news hit March 11 that an earthquake had created a tsunami that was going to inflict serious damage on the Japanese coast.
The selling intensified after the nuclear plant broke down. Then, I came in to work March 15 to see the Japanese stock market down almost 12 percent that day, leading to a total loss of 20 percent in a week. Losses of that magnitude are not a common occurrence.
Obviously, people were freaking out. A nuclear meltdown is a serious matter, and global investors were in a mood to sell first and get the facts later. By the middle of the week, there wasn't a stock left unscathed as the media brought instant images of the huge disaster in Japan.
It is at times like this that it pays to have a little historical perspective, a touch of experience and a steady demeanor. We know the earthquake was the worst in Japanese history. Keep in mind that tsunami is a Japanese word, so we know they have extensive experience with these natural disasters.
We also knew the Gulf of Mexico oil spill last year was the worst spill in history. The United States has had its share of oil spills over the last 100 years, and we learned later that our experience dealing with this type of problem truly helped us survive it. A week after the oil spill, the media had the public whipped into such a frenzy that I think most people thought every one of us was going to somehow be covered in oil the rest of our lives.
As stocks around the world fell further and further in the wake of the tsunami, I kept the memory of last spring in the front of my mind. It wasn't just the oil spill that spooked investors. We were also dealing with the possibility of Greece, Spain and Portugal going out of business. It was a scary time, but through it all, the indicators continued to suggest that the markets would hit new highs before the end of the year. And that is exactly what happened.
The actual events are different this time around, but all indications point to a continuing bull market that isn't ready to be derailed. In the context of an ongoing bull market, a 20-percent hit to the Japanese stock market created a pretty good buying opportunity. There is no question that things could have gotten worse, but successful investing is all about probabilities. The Japanese Nikkei was down so much that it priced in a fairly large reactor meltdown. When a total meltdown didn't happen, global markets began rebounding.
If we were in the middle of a bear market instead of a bull market, stocks would have kept falling into the end of the week. Bull or bear market is something you should always keep in mind before making any buy or sell decisions.
There is more to the selling than just panicky investors. Stocks are a liquid asset and that benefit is useful during a crisis. There are lots of Japanese institutions that will need lots of cash over the next few months. These institutions can easily get some of that cash out of the stock market, and that is exactly what some are doing.
Combine cash needs with panicky investors and, like I said, you get a good buying opportunity.•
__________
Hauke is the CEO of Samex Capital Advisors, a locally based money manager. His column appears every other week. Views expressed here are the writer's. Hauke can be reached at 203-3365 or at keenan@samexcapital.com.
Please enable JavaScript to view this content.