Internet protocol-based call center and business-process-automation software—yaaawn!—doesn't pique the prurient interest of average investors the way a hottie of an e-commerce or social media firm would.

That's too bad, because shares of the call center software firm Interactive Intelligence are on a tear—almost reminiscent of the early days of eBay.
CFO Steve Head said the firm had 19 orders worth $1 million or more in 2010.
Interactive shares have nearly tripled to around $38 from a 52-week low of $14, last August. The surge has swelled the company market's value to more than $700 million.

Analysts say the only publicly traded software company based in Indianapolis appears to be buoyed most by a string of larger orders, and by its anticipation of the rise of "communications as a service," or CaaS.

The off-putting acronym simply means a customer's applications and communications system can be hosted and managed off-site instead of at the customer's premises. With so-called cloud computing, customers don't have to invest in equipment or additional IT people.

Interactive's cloud revenue grew 59 percent in 2009 and 114 percent in 2010, according to Craig-Hallum Capital analyst Frank McEvoy. He said cloud revenue could grow to more than 20 percent of Interactive's revenue by 2015—up from 4 percent today.

That's important because the average value of a CaaS deal last year was $401,000 compared with $206,000 across Interactive's entire product set, Sidoti & Co. analyst Matthew Galinko wrote in a report last month.

Bigger is better

But mostly what's driving growth lately are sales to larger contact center customers—the kind with more than 500 seats occupied by people wearing headsets.

"Seemingly overnight, [Interactive] has become enormously successful in winning large contact center customers," McEvoy said.

Interactive's chief financial officer, Steve Head, credits improvements that allow its software products to scale up to larger numbers of users.

Head said Interactive Intelligence last year had 19 orders worth over $1 million, versus just nine such orders in 2009.

Orders over $250,000 are up, as well: 71 of them in 2010 compared with 46 the year earlier.

"With these improvements, we've become engaged in larger sales opportunities and we're winning larger contracts," Head added.

The company hasn't identified its newest large customers. Among the larger clients it has acknowledged in recent years are Delta Dental, Nautilus and Walgreens.

The company, founded in 1994 by Donald Brown, had profit last year of $14.9 million—nearly double earnings of $8.6 million in 2009.

"Further propelling our growth has been an improving economy and greater technology spending throughout 2010," Head said.

Analyst McEvoy said Interactive has "only recently cracked the large contact center market." That progress helped boost the company's revenue in 2010 to $166.3 million—up 27 percent from a year earlier.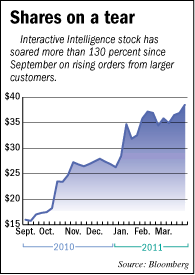 "The biggest factor in Interactive Intelligence's recent success has been its ability to penetrate the market for large contact centers … which roughly doubled [its] addressable market," McEvoy said.

The analyst said such up-market sales could account for 16 percent of Interactive's revenue this year; in 2009, it was 8 percent.

A significant portion of Interactive's revenue growth will continue to come from existing customers deploying additional products, wrote Sidoti & Co.'s Galinko.

Acquisition trail

Interactive Intelligence has been broadening its product capabilities in part through acquisitions.

In 2009, it bought South Carolina-based AcroSoft Corp., which makes software for insurance firms. Interactive rolled it into its product suite.

And last October, it bought Florida-based Latitude Software, which makes debt-collection software.

Market research firm Gartner estimates the overall IP contact center market at $2 billion worldwide. Interactive competes to varying degrees with such companies as New Jersey-based Avaya, California-based Cisco Systems and France-based Alcatel-Lucent.

Sidoti's Galinko, in his report last month, said Interactive faces challenges such as its less-than-10-percent market share in the sector. It "faces an uphill battle in gaining recognition, in our view."

Competitors are "well-entrenched" in enterprise data centers and can offer wider bundling and discount arrangements, he added.

Interactive Intelligence has more than 4,000 customers. It employs about 800 and is headquartered near Interstate 465 off of West 79th Street.

Yet it's not necessarily a household name, given the relatively mundane sector it operates in. Its products handle most any function a customer contact center might need via a Windows-based server—including voice, voice mail, e-mail, video, faxing and automated-customer-feedback surveys—and integrates them with other business systems.

McEvoy said the company plans to continue to move up-market in the contact center field, make product and service enhancements, and grow its cloud offerings.

That could drive revenue to at least $200 million this year, he said, referring to management projections.•