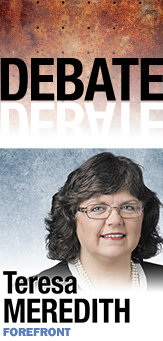 Question: Are teachers being scapegoated in the debate about improving schools?

Answer: As the debate around education reform heats up, everyone seems to be looking for someone to blame. The fault finders seem to be pointing their fingers at several groups, but currently teachers seem to be bearing much of the criticism.

Teachers simply cannot be made the scapegoats in the education reform debate. This merely distracts from the real issues at hand. Franklin D. Roosevelt said it best when he said, "Repetition does not transform a lie into the truth."

Most of the teachers I know are dedicated professionals who work long hours, who meet with students and parents before and after school, and who spend their own money on books and supplies. They share their expertise with colleagues and stay up late grading papers and planning lessons, and worrying about issues facing their students. Teachers defy the odds every day to help students overcome issues like language barriers, learning disabilities, physical challenges, homelessness, hunger and abuse.

During this legislative session, teachers have been labeled as "Indiana's privileged elite." Do I feel like I am privileged? Yes, I am privileged to work as an elementary teacher in a wonderful school with deserving students and with parents who care about quality education. And, yes, I do work with an elite group of dedicated and qualified teachers and administrators who go to great lengths to offer their very best every day.

Yet Indiana falls lower than the national average in teacher pay and ranks 30th in the nation overall. Indiana teacher salaries since 2007 have fallen steadily behind most of the nation.

I certainly did not choose the teaching profession because of the prospects of a cushy salary and over-the-top benefits. The glowing vision of "privileged elite," looks, well, a little tarnished when you look at those salary facts.

So let's stop blaming our teachers. The truth is that Indiana needs real education reform, not brutal assaults against teachers. Real reform is created through collaborative efforts where everyone is involved—parents, teachers, administrators, students, community leaders and policymakers.

Condemning teachers, and the notion of silencing their voices, will not improve student learning. Education reform issues and funding are complex, with no easy fix. One simple part of the solution, however, is to stop placing blame on teachers and include their voices as we work toward answers.

Like teachers across the nation, Indiana educators had no hand in creating the budget woes that drive some of these attacks on teachers, unions and public education.

Some tactics look like efforts to deny the middle class opportunities for a better future. Plans that use public tax dollars to pay for private or religious education appear to be initial steps to eliminate public education.

Real education reform includes teachers' voices as concepts, plans and implementation of reform ideas are discussed and established. Real education reform finds a place for the true professional to lead the debate.

As Hoosiers search for the best ways to improve Indiana's schools, I hope they will look to educators who are doing the work in the classrooms every single day for real answers.

Real education reform focuses on real solutions that include expanding early childhood education, finding ways to close achievement gaps, funding full-day kindergarten, and reducing class sizes.
It's time to stop blaming teachers. Let's find meaningful reform for Indiana's public schools. Let's allow our teachers to do what they do best. Educators are eager to come to the table and collaborate with lawmakers to ensure that our public schools are the best they can be.

Otherwise, the consequences could prove devastating for our economy, our state, our teachers and, more important, our children.•

__________

Meredith is vice president of the Indiana State Teachers Association and has taught for more than 18 years in Indiana schools. Send comments on this column to ibjedit@ibj.com.