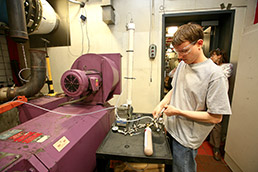 Nathan Scott, an engineering associate at Cummins, sets up a test on one of the large engines at Cummins' technology center in Columbus. (IBJ File Photo)
Mechanical engineers could always find work at Cummins Inc. in Columbus, but locals wanting to break into the profession had to go elsewhere for their education.

That will change this fall when Indiana University-Purdue University at Columbus rolls out its first four-year mechanical engineering program. The degree has been high on Cummins' wish list for at least a decade, but it took a multimillion-dollar investment by Lilly Endowment Inc. and a regionwide push for technical education to make it happen.

"The region is really focused on advanced manufacturing," said Georgia Miller, director of IUPUC's Center for Business and Economic Development. "We still have the highest percentage of workers in advanced manufacturing [of] any area of the state."

The 10-county region is the target of a $38 million, Lilly Endowment program called Economic Opportunity 2015, or EcO15. Part of the project, which seeks to raise education levels across the board, was construction of a $13.5 million Advanced Manufacturing Center of Excellence in Columbus.

IUPUC will conduct its lab work in the new facility.

New programs in mechanical engineering are rare because building laboratories is expensive, said Tom Perry, director of education at the American Society of Mechanical Engineers.

IUPUC, which has about 1,600 students, will join a handful of small liberal arts colleges in adding the degree program in the past decade, Perry said. Although mechanical engineers were caught in the automotive industry's downsizing, interest among students is strong.

"There are more students interested in studying mechanical engineering now in the U.S. than any time in our history," Perry said.

He thinks that's because mechanical engineering is so broad-based, and it has applications in alternative energy.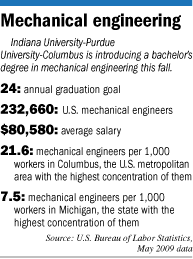 "If it moves, if it produces energy or uses energy, it's mechanical," he explained.

Columbus has the highest concentration of mechanical engineers of any metro area in the country, 21.6 per 1,000 workers, according to the latest U.S. Bureau of Labor Statistics survey.

That's largely because of diesel-engine maker Cummins, which has its headquarters and a technology center in the city of just 44,000. About 40 percent of the company's 6,443 employees in southern Indiana are engineers or work in an engineering function, spokeswoman Janet Williams said.

Engineers from Cummins and other local companies lent advice in starting the degree program, and some of Cummins' engineers who hold doctorates will serve as adjunct faculty, Miller said.

Cummins has used its clout as a major employer to bring educational opportunities to the region in the past. When the company decided in 2006 to bring a light-duty diesel line to its underused Columbus factory, it asked the state to bolster advanced-manufacturing and education programs.

The light-duty diesel line, which promised to create 600 jobs, stalled because of the bankruptcy of Cummins' client, Chrysler.

Mark Gerstle, Cummins' chief administrative officer, said the mechanical engineering degree was not one of the programs Cummins pursued under that incentive. But through its involvement in the Community Education Coalition and EcO15, Cummins helped persuade Purdue to grant the degree in Columbus, he said.

"It's taken a long time to convince the universities," Gerstle said. "They want to make sure there's demand."

Seeing IUPUC successfully launch MBA and nursing degrees helped the cause for mechanical engineering, Gerstle said.

Cummins isn't the only manufacturer in the region that hires engineers. Miller noted that Honda in Greensburg, NTN Driveshaft in Columbus, and others cited a continual need for engineering talent.

With the region's push for technical education in middle and high schools, Miller expects a strong contingent of traditional students, along with adults who already work at local companies.

IUPUC isn't yet marketing the program, but word is spreading, Miller said. "We're having parents stop by. Many MBA students who have engineering backgrounds are referring friends and colleagues to talk about it."

The first class will be about 30 students who've already declared themselves engineering majors. Those students could always complete their degrees at IUPUI, but that doesn't happen often. A survey by the Columbus campus found that in the five years it's had a transfer agreement with IUPUI, an average of two students each year made the move.

Miller said work obligations and an hour-long commute are typical barriers to transferring.

IUPUC will add one full-time faculty member a year through 2013, filling positions in thermal-fluid sciences; systems, measurements and controls; and engineering design.

The campus is still trying to nail down funding sources, but pegs its startup costs at $100,000 to $250,000 a year for the first three years, spokeswoman Susan Sullivan said.•