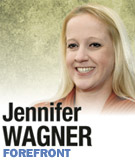 I'm the first to admit that I spend a lot more time surfing the Internet and using social media than most people.
I encourage and work with my clients to extend their brands via traditional public and media relations while building up their online reach using websites, blogs and social networking sites.
The wondrous World Wide Web puts the latest information and news at our fingertips. The downside: There's a lot of silliness out there, and much of it exists in the realm of politics.
A few weeks ago, I watched a handful of local political folks get into a full-fledged argument on Twitter about something too insignificant to even earn the "inside baseball" label.
They were essentially yelling at one another in a large room filled with people who either didn't care or weren't listening.
It was a few minutes of free entertainment, but did it do anything to advance their agendas? Promote their candidates of choice? Convince anyone of anything?
It's easy to get distracted in real life, and it's even easier online. There are so many conversations going on at the same time that you can either drown in the din or find yourself fixated on what a few people are saying about the things that matter most to you.
Imagine that myopic feeling magnified by the pressure of a compressed electoral time line with a big win-or-lose moment at the end.
Campaign operatives in the midst of a competitive cycle often get lost in their own world, forgetting that most voters don't tune in until a few weeks before the election. I've seen it turn perfectly normal folks into neurotic messes overnight.
As we head into this year's primary election and on toward November, here are a few pieces of advice for my friends in the political world.
Stick to your message. You know what you stand for. Your opponents know what you stand for, and they're going to do everything they can to knock you off course. You'll no doubt return the favor. When someone says something mean about you, the temptation to launch a strong defense is nearly irresistible. Make sure that defense fits into the framework of your overall message—and that you don't go overboard. No need to break out the baseball bat to kill a mosquito.
Monitor your opponents. In the world before websites and social media, it was harder to know what the other side was doing. These days, you can find the latest news, upcoming events and ongoing debates without leaving the office or picking up the phone. Always keep an eye on the competition. If you're extremely lucky, your political adversary will have hired young, inexperienced staffers who telegraph their boss's next moves on Twitter and Facebook.
Ignore your opponents. You don't have to respond every time someone picks a fight. Before you suit up for battle, determine whether it's worth your time and energy. Remember, you're helping someone run for an important public office. Don't get dragged down into the mud by mindless taunts from the sidelines.
Prepare your principal. The most sensitive person on any campaign is almost always the person whose name is on the ballot, and it's hardest to maintain perspective when the attacks start flying. Make sure your candidate understands that much of what happens online is white noise. If something important rises up out of the electronic fog, it's your job to explain what it means and help your principal work through the response.
Don't take it personally. So many people forget that while there's a lot at stake in each campaign cycle, politics is a business. It's a fast-paced, high-emotion business that pits candidates against one another, but each contest comes with an expiration date. There is life after the election, and the opponents you're fighting today will be just people on the first Wednesday after the first Monday in November. You're probably never going to be BFFs, but you can probably be civil.•
__________
Wagner is a lifelong Indianapolis resident who served as deputy director of public affairs at the National Nuclear Security Administration. Send comments on this column to ibjedit@ibj.com.
Please enable JavaScript to view this content.