Citizens CEO Carey Lykins earned $1.6 million last year.
Citizens Energy Group is a not-for-profit charitable trust—a structure Mayor Greg Ballard touted as a major advantage when he promoted its purchase of the city's water utility.

But that doesn't mean CEO Carey Lykins is missing out on the kind of paydays executives of publicly traded utilities enjoy. In 2010, his salary and bonus totaled a hefty $1.6 million.

Lykins, in fact, earns more than his counterparts at the three largest municipal gas utilities in the country. And he could be in line for even higher pay later this year if Citizens completes its $1.9 billion purchase of the city's water and wastewater utilities.

"We haven't looked at that yet," Martha Lamkin, president of Citizens' board, said of future executive pay levels.

What's clear is that Lykins is already racking up pay that might make his peers at larger companies jealous.

San Antonio's municipal gas and electric utility, CPS Energy, last July lassoed no less than the president of energy giant Exelon Power as its new CEO.

Managing the Texas utility, which has 320,000 natural gas customers and 710,000 electric customers, will earn Doyle Beneby a base salary of $360,000, not including a performance bonus. While that amount hasn't been specified, Beneby's predecessor walked out the door with annual compensation of $613,000.

Lykins and Citizens serve 270,000 gas customers and provide steam and chilled water service to about 350 commercial buildings downtown. But unlike Beneby, Lykins doesn't have an electric utility to worry about. Nor is he responsible for a 2,700-megawatt nuclear power plant.

Lykins' $1.6 million is paltry in some corporate circles. But it might raise eyebrows considering Citizens was structured more than a century ago as a not-for-profit, public charitable trust. Such a trust could be regarded as the polar opposite of an investor-owned utility that rewards its CEO with multiple millions of dollars to maximize shareholder return at the expense of ratepayers.

"I guess this shows that non-profit does not necessarily mean low-cost," Brian Mahern, a City-County councilor, said of Lykins' $1.6 million paycheck. "It's a lot of money for the people I represent."

Pay for performance

Citizens counters that its executive pay structure is designed to enhance the company's performance, which in turn benefits its customers. It says such incentives have paid off for ratepayers, citing the utility's ranking among the top four utilities in the Midwest the past eight years in J.D. Power and Associates' survey on residential gas utility satisfaction.

It also points to Citizens' No. 1 or No. 2 ranking in a study by Huron Group of peer utilities in such performance measures as customer gas price, operations and maintenance expense.

Citizens officials bristle at comparing Lykins' pay solely with that of the three largest municipal gas utilities in the nation (Citizens is fourth-largest). They cite the company's emphasis on hitting performance benchmarks that some other municipal utilities may not have such an aspiration to attain.

Instead, Citizens' board engages consulting giant Mercer to conduct an annual survey of what executives of similar responsibilities made at firms of similar revenues and complexities.

Lamkin said she could not immediately recall which companies were on Mercer's list of comparables.

About 75 percent were from the utility sector, with another 25 percent from other industries. Seventy-three percent of Citizens' $441 million in revenue in 2010 came from its natural gas business, with the rest from steam and chilled water delivery and from its oil-drilling operations in southwestern Indiana.

From Mercer's list, Citizens determines its executive pay based on the 50th percentile of the market for comparable executives, "which we think is modest," Lamkin said. In other words, 50 percent of executives earned more, 50 percent earned less.

Pay is linked to how well executives achieve certain performance targets, such as safety, customer satisfaction and operational efficiencies, Lamkin said.

Last year, the board awarded Lykins a base pay of $532,000, up from $484,000 in 2009. On top of that was $340,552 in short-term incentive plan payments, which are incentives for all Citizens employees based on performance measures and Malcolm Baldridge quality criteria.

Lykins, a certified public accountant who started with the utility running a jackhammer 37 years ago, also received $458,616 last year under the company's executive incentive plan. EIP payments, which provide "an incentive to attract, motivate and retain key executives," are paid in two-year cycles.

The final portion of Lykins' 2010 compensation was $300,551 in so-called restoration pay. Citizens explained that there are limits on how much money can be put into employee pension and 401(k) plans. Restoration pay is designed to equalize pension benefits for executives who've reached that limit, who are over age 55, and eligible to retire. Lykins is just shy of age 60.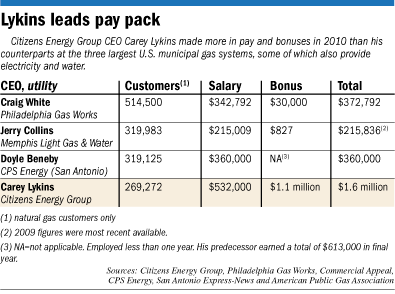 "We are seeking to attract and retain high-performing executive talent in a corporate setting," Lamkin said.

Moreover, she said, competition Citizens faces for that talent comes from investor-owned utilities that dominate the region.

Indeed, Lykins' $1.6 million compensation last year was almost as much as that of the $1.7 million paid to Carl Chapman, president of investor-owned Vectren, the Evansville-based gas and electric utility.

Many investor-owned utilities have boosted pay of top executives to prevent management turnover that could reduce stability. One Citizens official noted that, under the city's ownership, the executive director position of the water utility changed several times over the years. Whether that contributed to the water utility's financial challenges could be debated.

Leadership at some municipal water utilities is a revolving door based on political patronage and changes in mayoral administrations. Mayor Ballard said compensation levels for Citizens executives are up to the Citizens board. "It's hands off for us."

Ultimately, Ballard added, "We needed to put water and wastewater in professional hands."

Hard to swallow

Still, others find the $1.6 million paid to Citizens' CEO last year hard to swallow.

"I knew his salary was high. I didn't know how high relative to other [municipal] utilities," said City-County Councilor Angela Mansfield, who also opposes the sale of the city's water and sewer utilities.

"I don't think we should be paying such exorbitant amounts," Mansfield added. "We all know who is going to end up paying for this. It's the ratepayers."

Besides Lykins, Citizens' other four-highest-ranking executives last year individually had total compensation between $495,620 and $594,615.

Before the water/sewer deal, their attention in recent years had been focused on a number of rate cases before state regulators and the closure of the utility's century-old coke fuel plant on the city's east side.

Losses from such discontinued operations, of $4.6 million last year, resulted in a $1.8 million net loss for the utility. Otherwise, Citizens had a net operating income of $33.6 million, up from $29.9 million in 2009.

Those executives are expected to wring out at least $60 million in savings from the water and sewer utilities by the third year of ownership. They're eyeing such things as streamlined supply chain and contracting, and consolidating administrative functions to provide efficiencies.

That effort should pay off in water rates at least 25 percent lower than they otherwise would be, Citizens executives have said previously.

But given a generally favorable regulatory climate in Indiana for utilities to pass along costs to their customers, Citizens Action Coalition's executive director, Grant Smith, wonders why such levels of pay are necessary.

"When you look at utilities in this state, it's more risky running a lemonade stand than running a utility."•