David Suess is treasurer of the Health Foundation of Greater Indianapolis.
The Health Foundation of Greater Indianapolis in many ways was an investment consultant's ideal client.

The foundation trustees didn't waiver when assets took a hit, and they didn't complain about fees.

The foundation put 90 percent of its assets in stocks, and its top money manager, a large-cap growth firm called Columbus Circle Investors of Stamford, Conn., helped drive the asset base from a starting point of $12.5 million in 1985 to $46 million by 2000.

The foundation stuck with Columbus Circle through the market crash of 2008, which pushed its assets down to $18.5 million, until 2009. Throughout that two-decade relationship, Columbus Circle paid a finder's fee to the foundation's consultant, Cooke Financial Group in Indianapolis.

Citing client confidentiality, Cooke would not divulge details of the arrangement to IBJ, but it was disclosed to the health foundation, as the Securities and Exchange Commission requires. One compliance expert said the fact that payments from Columbus Circle were ongoing might have influenced Cooke's view of that money manager, nevertheless.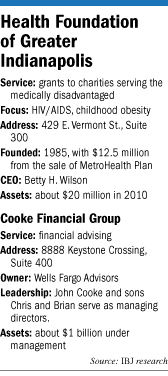 "I can see that consultant not wanting to move that money," said Daryoush Niknejad, managing director at Steelbridge Compliance in Dallas. "If I'm just being cold-blooded, I don't think I can find another relationship that pays like that."

Niknejad said most finder's fees that he reviews are one-time payments.

This year, the health foundation replaced Cooke, its consultant of 25 years, with Bernstein Global Wealth Management in Chicago.

The consultant typically helps define an investing strategy, then suggests separate managers to place the money in specific investments and execute trades.

Treasurer David Suess wasn't aware of the Cooke group's past arrangement with Columbus Circle until IBJ inquired about it in April.

Suess, who became treasurer in 2009, said that if he had known, "It would certainly raise questions I would want to ask."

He added that in seeking proposals from investment consultants last year—the first time doing so—the foundation asked bidders whether they would receive fees from managers or brokers.

The Cooke group responded that it receives no such fees, Suess said. That makes sense because the relationship with Columbus Circle ended a year earlier, and the Cooke group wasn't collecting finder's fees through new clients.

John Cooke's broker-dealer report, which is available to the public through the Financial Industry Regulatory Authority, contains a brief description of the Columbus Circle agreement. The report says the relationship started on Dec. 1, 1989, and that Cooke receives fees "on previously referred business," and that "no new referrals will be made."

One person familiar with Cooke's agreement said at one time it applied to multiple institutional clients, but that the health foundation was the last one using Columbus Circle.

Phil Love, a longtime health foundation trustee who left the board at the end of last year, said the foundation owed a big part of its returns over the years to Columbus Circle.

"We hit a home run with that," said Love, president of Love Heating and Air-Conditioning.

The foundation has given away $33 million over the past 25 years to charities that help the medically disadvantaged. Two of its focus areas are HIV/AIDS and childhood obesity.

During some periods, Columbus Circle managed as much as 50 percent of the foundation's assets, Love said.

"We would try to reallocate so they didn't have such a big percentage—they went and filled the coffer again," he said.

Love also said board members were well aware of the fee arrangements. "You only whine about the fees if you have lousy performance."

Not all of the foundation's current board shares Love's long-term perspective.

Until the foundation instituted term limits in 2001, trustees enjoyed lifetime appointments. By the end of this year, none of Love's cohorts will be left on the foundation's board.

The foundation's typical investing expenses in the past decade were around 1 percent of assets. That ratio crept up in 2006 to almost 1.5 percent and neared 1.6 percent in 2008, tax returns show.

After the foundation moved money out of Columbus Circle in 2009, the ratio dropped to 1.1 percent.

That's not an unprecedented level of investing expense. According to a recent study by the Council on Foundations, similar foundations spent anywhere from 0.1 percent to 4 percent of assets on investing in 2008.

The average fee ratio for all foundations in the survey was 0.78 percent, or 78 basis points.

Cooke Financial Group, part of Wells Fargo Advisors, is one of the largest investment advisers in the Indianapolis area. The firm says it has slightly less than $1 billion under management. John Cooke, 70, and his sons, Chris and Brian, boast a long list of industry awards, including multiple mentions in Barron's magazine's top 1,000 financial advisers.

When John Cooke started advising the health foundation in the 1980s, few money managers had minimums low enough to accommodate the foundation's asset level, said Chris Cooke, managing director of investments.

In the era before low-cost computerized trading, clients typically paid commissions, plus trading and other costs. For Cooke's clients with Columbus Circle, it was "easier and cheaper" for Cooke to take a piece of the money manager's commission, Chris Cooke said.

By the mid-1990s, the industry had switched to "wraparound" or all-encompassing flat fees. The health foundation could have dropped Columbus Circle, Cooke said, but by that time the money manager had raised its minimums. That meant there would be no going back, he said.

"We repeatedly stated we could offer different managers," Cooke said.

Health foundation officials say they invested aggressively so they could give generously. That's its real "philanthropic value," Suess said.

"I couldn't be prouder of what that board accomplished," Love added. He noted that, even after spending at a rate that at times exceeded 10 percent of assets, the foundation ended last year with around $20 million in assets.

"You can't do it out of your passbook," he said.•