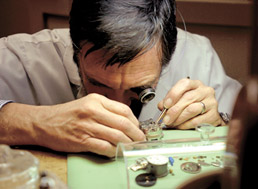 Bill Rostiser has been a watchmaker at Windsor Jewelry downtown for 38 years.(IBJ Photo/ Perry Reichanadter)
Bill Rostiser can't afford to slip now.
In his hands is a long, toothpick-like needle, which he uses to gingerly prod pieces of his project. He is studying to become a 21st Century Certified Watchmaker, and today he is working with a model he will be tested on during certification—an ETA 7750 Automatic Chronograph.
He leans forward, coming within 2 inches of the watch and peering through an eyeglass that makes the tiny pieces appear four times larger.
Rostiser
Moving slowly but with purpose, he places a pallet fork into the assembly. The watch component, which resembles a "T" with jewels on each upper leg, is smaller than the point of a pen. The jewels keep the gears of the watch in time.
Rostiser holds his hand steady. This work isn't a matter of inches. It's a matter of hundredths of a millimeter.
His changes are minute, but the results are important. A minor miscalculation could mean a few seconds off—and a few seconds eventually becomes minutes, even hours, if a watch is not properly maintained.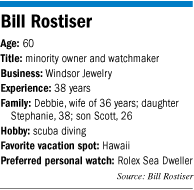 For Rostiser, being exact is a priority. Every second counts.
'Quartz revolution'
Rostiser has practiced watchmaking for more than half of his life.
At 60, he has worked 38 years at Windsor Jewelry just south of Monument Circle. During that time, he watched the downtown area flourish, along with the business.
"Before the [Circle Centre] mall opened, you could come down here on a Saturday and … shoot a cannon down Meridian Street, and you wouldn't hit anybody," he said. "Once that opened, things really changed for the better. Now Saturdays can be one of our best days."
Rostiser, a native of South Bend, began work at a typewriter company as a young man and went to Purdue University for a year before being drafted into the Army at age 19. He spent 2-1/2 years in Germany, then moved to Indianapolis with his mother after returning in 1973. That was his first step away from the typewriter toward "something considerably smaller."
"When I got out of the Army, I had no idea what I wanted to do," Rostiser said. "There was an ad in the paper that said, 'Jewelry Store Trainee.' I answered the ad and got hired here."
Gordon Thompson worked as the watchmaker at Windsor at that time, and Rostiser said he felt an immediate connection.
"I just kind of gravitated towards him," Rostiser said of Thompson. "The guy that hired me wanted me to be a salesman, but that's not my strong point."
Four months later, Thompson left the company, and Charles Abner replaced him. Abner taught Rostiser how to have a creative edge and to "make something when it wasn't there."
Then in 1979, what Rostiser calls the "quartz revolution" brought a new level of accuracy in watches and a new demand for his trade. After a class at IUPUI to augment what he had learned from his previous colleagues and new partner Tom Bunker, he began practicing the craft in earnest.
IBJ.COM EXTRA
Click here
to see more photos of the watchmaker practicing his craft.
The owner who hired Rostiser retired in the late 1990s, giving him a small stake in the business. Rostiser continued as a watchmaker despite new administrative duties, and he still spends about six hours a day at his workbench.
Eight years ago, Rostiser received an offer for free training in watch repair through Swiss watchmaker Swatch, which led him down the road to certification. Sponsored by the American Watchmakers-Clockmakers Institute, the certificate training will offer Rostiser the prestige to get a job "anywhere in the world," including his family's favorite vacation spot, Hawaii, his "paradise on Earth."
The four-day test consists of repairs to four types of modern watches: a quartz watch, a modern automatic watch, a modern pocket watch and the chronograph. There is also a 25-question evaluation.
"A steady hand, a good eye and a lot of patience" are essential to his work, Rostiser said, and certification will be a test of those skills.
"There's probably about 3,500 members of the AWCI, and about 1,800 have taken the test," he said. "At the most, 600 have passed it."
New tools, old job
Rostiser's office molds the new and old of the watchmaking business.
His workbench is older than he is, and he still has equipment in the basement dating back to the 1940s—which he used up until a few years ago.
Now the room houses more than $10,000 in modern electronic equipment: a pressure tester, a cleaning machine, a device that measures accuracy and a modern mechanical timer. To his left sits a computer screen showing directions for the watch he's practicing on.
This is the first time he's worked with the chronograph since last fall, when he took the class for its assembly.
His right hand motionless, he carefully picks at the inner workings of the chronograph with the Swiss pattern needle in his left. After almost 40 years in the business, his hands have nearly perfect control.
Still, he notes that gravity and temperature eventually will make the watch's inner coils flex outward, affecting its accuracy.
Between alterations, he attends to the needs of customers. One man brings him a wristwatch with a loose band. Rostiser sets it on his workbench and grabs a small gold mallet. He places his needle in the gap between the bands and strikes it six times, releasing the pin holding the band together.
Within 15 seconds, Rostiser has removed a link and returned the watch to his customer to see if it's comfortable. After another quick adjustment, the band is set; the customer leaves to pay and Rostiser returns to his chronograph.
He hunches back over the watch, needle in hand, and places a stronger loupe over his right eye.
As the modern flat-face wall clock above him ticks on, Rostiser continues his work, dripping oil onto the joints below him.
Practice makes perfect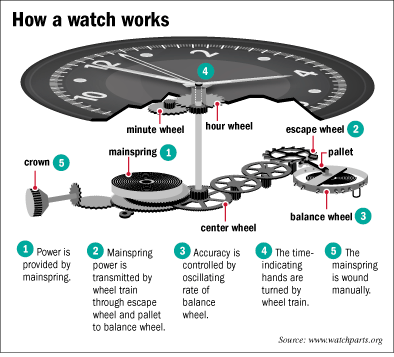 Day-to-day, Rostiser adjusts wristbands, replaces batteries, handles engravings and makes other minor adjustments, along with his practice. Certification, he said, will be a necessity in the coming years.
"Basically, you're representing the manufacturer, and the manufacturers are driving this certification," he said. "If you don't have it, they're not going to sell you parts. … They want you to do things their way."
Rostiser doesn't have the equipment necessary to custom-make his own watches—the costs would be "astronomical," he explained—but he is proud of his skill. He explained that practice is the only way to become competent.
"The Swiss offer a three-year course in watch repair," he said. "When you graduate from that, you know all the theory, and you know what you have to do, but that doesn't necessarily give you proficiency. Proficiency takes time."
In terms of a 0-to-10 scale, he said he is a "10" in quartz watch repair and an "8" in mechanical watches. The 21st Century Certification, he hopes, will bring him to that next level.
"Once I pass the test, I feel that I've reached as high as I'm gonna go," he said.
Rostiser wants to reach that peak because of the difficulty that getting there presents.
"I like a challenge," he said. "When you overcome something that maybe you've not done before and you're able to get a watch to run that people have had other places … that's a pretty good sense of accomplishment."
His consistent presence in the industry, he said, is a result of being adaptable to change. As Indianapolis has changed over the decades, so have his business, his profession and his craft.
Rostiser said 11 schools in the United States teach the Swiss method of watchmaking, each with at most 12 students. The average salary for a watchmaker starts at about $40,000, Rostiser said. While he does not see watchmaking as a dying art, despite the increasing popularity of time-telling alternatives like mobile phones, his profession is not as widespread as when he began. Most jewelry stores don't have their own in-house technicians.
"I have a skill very few people have, and I like it," he said. "I like what I do. Every day is different. Every day presents its own challenges.
"There is one constant in life—change. You can either accept it or get left behind."•
Please enable JavaScript to view this content.