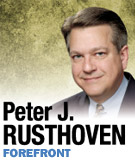 Richard Mourdock calls his challenge to Sen. Dick Lugar vital to the nation's future. To quote Mourdock's fundraising letter, "Our success as conservatives in stopping President Obama's left-wing, big-government agenda will hinge in large part on the outcome of my primary race for the U.S. Senate in Indiana."

Direct mail is always hyperbolic—and always reveals what a candidate thinks will resonate. It's also a good gauge of willingness to sacrifice truth on the altar of ambition. Mourdock's attacks on Lugar put the needle on the GOP challenger well into the red zone.

Mourdock's theme is labeling Lugar "President Obama's 'Favorite Republican.'" The label's source is … MSNBC, the left-leaning cable outlet starring Chris Matthews and (until recently) Keith Olbermann! This is a first—telling conservative donors to believe MSNBC.

Source aside, what about the charge? Obamacare? Lugar opposed it. Obama spending? Same. Cap and trade? Same. Raising taxes? Ditto. Financial "reform"? No again. Repeal "Don't Ask, Don't Tell"? No. Our unguided venture into Libya, lambasted by George Will? Lugar leads the opposition. Extending Bush tax cuts? Lugar, yes; Obama, no—till the latter yielded. One can imagine Obama muttering, "With 'favorites' like this … "

What about (quoting Mourdock) Lugar's "partnership with left-wing Democrats on key national security issues like President Obama's START Treaty." Mourdock identifies no treaty term putting security at risk.

The president who started the START process was Reagan. All former GOP secretaries of state favored the treaty, which put our inspectors back in Russia. And seriously—who believes Richard Mourdock has more wisdom and judgment on foreign policy and national security than Dick Lugar?

Mourdock says Lugar wants to "reward illegal immigrants" as "a prime co-sponsor of President Obama's notorious DREAM Act." This "notorious" bill's key feature is a path to citizenship for those brought here as children, who then serve honorably in our all-volunteer armed forces. If you've actually served in uniform—as Lugar has—giving those willing to fight and die for our country a path to citizenship isn't what you call "amnesty" or "rewarding illegal immigrants."

Then there's judicial confirmation, where Mourdock calls Lugar "a rubber stamp for President Obama's liberal Supreme Court nominees." Well. Lugar takes the traditional conservative view that a president's judicial selections should be honored if qualified by ability and integrity. Conservatives protest when Democrats oppose Republican choices, such as Reagan nominee Robert Bork and the George W. Bush selections who never got a vote. One is either principled or partisan on this.

Lugar's principled approach has also yielded vital conservative victories. Few Bush decisions will have greater long-term impact than making John Roberts chief justice. Roberts, raised in Indiana, wanted Lugar to introduce him to the Senate. Lugar's reputation was a key reason Roberts was confirmed with 22 Democratic votes.

Reagan called Lugar "a man of matchless honesty and integrity" who "took on some of the toughest assignments we had, and was there with solid advice whenever I needed it." Lugar ranked No. 1 in the Senate in support of Reagan. He also ranked No. 1 in support of George W. Bush. On Obama, Lugar's voting record is virtually the same as GOP leader Mitch McConnell's, differing primarily on a few confirmation votes.

I know three Hoosiers who knew Reagan and served in senior White House posts. Two (Gov. Daniels and this author) are for Lugar. The third is Chief Justice Roberts, who can't endorse candidates. He's the one who wanted Lugar to introduce to him to the Senate.

No Democrat can defeat Dick Lugar, whose principled conservatism and courteous, thoughtful style have earned him the highest approval rating of any Hoosier public figure. This GOP Senate seat is at risk only if Mourdock wins a primary in which he is distorting and trashing Lugar's record.

Who do you think is really "Obama's Favorite Republican" in this contest?•

__________

Rusthoven, an attorney, was associate counsel to President Reagan. Send comments on this column to ibjedit@ibj.com.