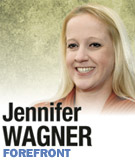 I'd like to introduce you central Indiana folks to a rising star in Indiana Democratic politics. His name is Pete Buttigieg, and unless something goes horribly awry in November, he's going to be the next mayor of South Bend.

You may have heard Pete's name last year when he ran unsuccessfully for state treasurer in one of the worst political climates for Democrats in the past 75 years. Still, he received the second-highest number of votes for a statewide Democratic candidate behind Brad Ellsworth, who was running a high-profile race for U.S. Senate.

There is nothing unimpressive about Pete.

He's a Harvard graduate and Rhodes Scholar who's traveled the world advising senior government and business leaders on energy, economic development and logistics. The South Bend native is a fellow at the Truman National Security Project, a D.C. think tank, who also serves as an officer in the U.S. Navy Reserve.

Oh, and did I mention that he's only 29?

But it wasn't Pete's resume that won him the Democratic nomination in South Bend. It was hustle.

Pre-primary campaign finance reports showed that Pete raised more cash than his three primary opponents combined, and he earned some prestigious endorsements, including one from the chamber of commerce of St. Joseph County, which had not previously endorsed a mayoral candidate.

The Democratic mayoral primary in South Bend was hard-fought and emotional, and all the candidates deserve credit for their efforts. When the final tally came in, Pete had earned 54 percent of the votes—a simple majority in a four-way race.

More than that, though, he showed that you can accomplish amazing goals when heart and hard work combine in the right circumstances.

I should note that I write all of this having briefly met Pete only a couple of times at public events. I don't know him personally, but I hope to change that in the coming months.

Whether you're a businessperson or political operative, I'd advise you to do the same.

I'd also encourage political up-and-comers in both parties to take note of Pete's strong commitment to public service.

I've met a lot of candidates, and some of them don't clearly understand the whys and hows of running for office.

Before you put your name on the ballot, you have to be able to solidly answer only one question: Why am I doing this?

There are plenty of answers to that question, but the best candidates never change theirs.

Network television and Hollywood have added a layer of glamour to the campaign trail that doesn't exist in real life. Don't believe anyone who tells you that dialing for dollars, knocking on doors, embracing strangers, repeating your talking points for months, and spending countless hours away from your family and friends is fun.

Fulfilling, yes. Means to an end, yes. But rarely fun.

If you're running for office, you have to have a deep-down, burning passion for and understanding of the job for which you're applying.

Legislative jobs entail so much more than writing bills and voting on them. Executive jobs require leaders who know how to run an organization with hundreds or thousands of employees while never losing sight of overall administration goals.

There are detailed briefings, behind-the-scenes meetings, endless phone calls to return, staffing decisions, palace intrigue, crisis situations and long-term planning. And that's all after the campaign ends.

Plenty of people in Pete's shoes would have walked away from the 2010 election never wanting to run another political race. He didn't. He moved back home, hit the ground running, and racked up a huge "W" on the political scoreboard.

The people of South Bend and our state would be well served under the leadership of Mayor Buttigieg. I congratulate him on his primary win, I wish him the best of luck in the general, and I sincerely hope that at some point in the near future we can clone him.•

__________

Wagner is a lifelong Indianapolis resident who served as deputy director of public affairs at the National Nuclear Security Administration. Send comments on this column to ibjedit@ibj.com.