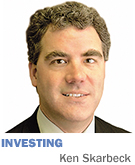 I recently attended an investment industry conference. It is always interesting to meet new people in your field and become exposed to the wide variety of investment strategies.
On the other hand, when the topics are geared toward institutional investors, I usually walk away mystified. The investment "infrastructure" assembled by some of these institutions is a thing to behold.
At the top is a board charged with directing the overall investment program. They compose an "Investment Policy Statement," which sets the investment goals for the organization and establishes parameters for the various types of investments the institution will utilize in its portfolio. These are generally worthwhile exercises.
Many institutions then hire a consulting firm to develop an overall "asset-allocation" plan to meet their goals. From all appearances, institutional asset-allocation strategies are becoming much more complex.
At this particular conference, what struck me was how passé U.S. investments are in many of today's institutional portfolios. Instead, these allocation plans boast a wide variety of hedge funds, commodity funds, private equity, emerging-country securities, "tail-risk" products using derivatives and options designed to supposedly protect against a Black Swan event and other volatility-damping strategies that purport to reduce risk, etc.
Ten years ago, investment portfolios that held these kinds of investments would have been viewed as daring. Today, institutional investing is driven by the consulting firms who are armed with complex "quantitative" techniques and preach a mantra of being "noncorrelated" to the U.S. markets.
The presentations include slides of intricate flow charts, which have all sorts of funnels that hold different assets and arrows that circle around the page, vividly displaying a complicated—but masterful—plan adopted by the board.
Even so, the mood at this particular gathering was subdued, leaving the impression that institutions are still shell-shocked that their intricate investment plans did not protect them during the credit crisis. Hedge funds that were supposed to hedge against losses did not. Instead, the funds got trapped in illiquid investments with sinking prices.
Predictably, key discussion topics now involve liquidity and protecting against risk. Also many investors are, unsurprisingly, investing in commodities and gold, two assets that are at their highs—thus continuing the human tendency to seek what has recently performed the best (rearview-mirror investing).
I did get a kick out of one investment manager who obviously didn't cater to institutional investors. He had cornered a consultant and was reading her the riot act:
"You are all doing the same thing, which means it won't work," the manager said. "You are over-hedged and insured with so many layers of fees that you can't possibly outperform. Just buy stock in a good company and put it away—the long-term results will be far greater than any of these programs you have developed."
I patted him on the back and wished him luck but knew he would not get anywhere. What some call the "institutional imperative" is deeply engrained, and returning to a simpler investment strategy would put a large part of the infrastructure out of business.
The situation is much like the argument for a one-page tax form. It would be beneficial for taxpayers but will never happen because it would result in the demise of a large swath of the accounting industry.•
__________
Skarbeck is managing partner of Indianapolis-based Aldebaran Capital LLC, a money management firm. His column appears every other week. Views expressed are his own. He can be reached at 818-7827 or ken@aldebarancapital.com.
Please enable JavaScript to view this content.