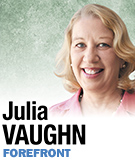 Now that Gov. Mitch Daniels has announced he won't be running for president, it's time he stopped playing politics with the implementation of federal health reform.

A good place to start would be the Indiana Department of Insurance, where Commissioner Stephen Robertson has been busy lately writing snarky letters to Kathleen Sebelius, the Obama administration's secretary of health and human services, and issuing press releases expressing concern for the financial health of insurance companies.

While I suppose it would be too much to ask for an actual advocate for consumers in control at the office in charge of insurance regulation, recent department missives beg the question of just whose side they are on.

According to Robertson in a recent press statement, it's a bad idea for health insurers to face penalties for spending too much on red tape and not enough on actually paying for their enrollees' medical bills.

He objects even though enforcement of this new provision this year would have resulted in rebates totaling $30 million to Hoosiers with individual health insurance policies. Since only 19 of the 63 insurers doing business in the individual market here met the new "medical loss ratio" standard of 80 percent, rebates would have been issued to an astounding 94 percent of the almost 200,000 Hoosiers who hold individual policies.

What's Robertson's objection to this effort to hold health insurers accountable? He's worried the financial sting will motivate insurers to abandon the Indiana market, leaving consumers fewer insurance choices.

Talk about misplaced concerns! Despite the big bad bogeyman of federal health reform, health insurance profits continue to climb.

According to a study by Kaiser Family Foundation, the five largest private for-profit health insurers recorded huge profit gains in the first three months of 2010 compared with the previous year.

WellPoint, United Healthcare, Aetna, Humana and Cigna reported combined profit of $3.2 billion, a 31-percent leap from the same period in 2009. And it's not like they had a bad year in 2009, since they set a full-year profit record during that period despite the economic downturn.

And while Robertson is right to fret about monopolization of the private health insurance market, he's more than a little late to the game. A few private health insurers have built a near monopoly in the Indiana market, burdening families and businesses with premiums that have grown 7.3 times faster than wages from 2000 to 2007, according to research from Families USA.

Anthem/WellPoint, the state's largest insurer, holds a 60-percent market share; the U.S. Justice Department considers a market "highly concentrated" if one company holds more than 42 percent.

So if Robertson wants to correct this problem, instead of trying to delay federal efforts to hold insurance companies accountable, he needs to ask for a federal investigation of anti-trust violations by WellPoint.

Even more galling than Robertson's misplaced concerns about the future viability of private health insurers is his delusional insistence that his department doesn't need any more muscle to police rate hike requests. According to the IDOI chief, Indiana's rate review program has been "effective" for more than two decades.

Effective for whom? Health insurance premiums for Indiana families have skyrocketed 83 percent from 2000 to 2007, with the average family plan rising from $6,628 to $12,153. Employers have seen their share of annual premiums grow 75 percent, while the workers' share has increased 116 percent.

Meanwhile, wages increased only 11 percent. Instead of an effective regulatory environment, the facts suggest Robertson's rubber stamp for rate increases is getting a real workout.

Health and Human Services is offering states funding to enhance their premium rate review programs by ensuring proposed rate hikes are comprehensively reviewed and by bringing greater transparency and openness to the rating process.

Unfortunately, the Daniels administration has refused to even apply for these funds, stubbornly insisting they've got everything under control. Can you hear the sound of Nero fiddling, while Rome burns?•

__________

Vaughn is policy director for Common Cause/Indiana, a nonpartisan citizens lobbying organization that works for open, honest and accountable government. Send comments on this column to ibjedit@ibj.com.