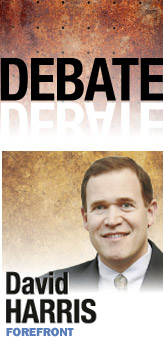 Question: What education issue should the General Assembly address next?

Answer: We are coming out of one of the most successful legislative sessions for education reform in our state's history.

To continue our educational transformation, legislators should consider four important issues in future sessions: reforming school governance in Indianapolis Public Schools, creating a "parent trigger" to give parents more control over their schools, making the state superintendent of public instruction a gubernatorial appointment, and aligning the school funding formula with reform.

Students and families in IPS have been trapped for too long without access to enough high-quality schools. We need to fundamentally rethink the way we run the school system and implement a governance model that has more potential to serve students well.

As I've written in these pages before, high-performing schools that serve disadvantaged children tend to share certain traits. School leaders enjoy the freedom to build their own teams, schools extend the day to maximize learning time, and teachers have flexibility to innovate in the classroom.

We are not convinced that the current district structure—with its layers of bureaucracy and top-down control—offers the best conditions for schools like this to prosper. That's why legislators next session should empower residents in IPS to change course if they think a different governance arrangement would work better.

We also need to give parents more control over schools. Last session, lawmakers considered a "parent trigger" that would allow a 51-percent vote of parents at a school to force the district to make major changes, including the possibility of converting to charter status—independent of the district. Unfortunately, the new law was weakened when a provision was added requiring school board approval.

A true parent trigger would have been the biggest game-changer of the session because it would shift the balance of power from school bureaucracies to parents.

Empowering parents is particularly important in disadvantaged neighborhoods where families can't necessarily move out to send their kids to better schools. By requiring school board approval, the Legislature gave the power from parents back to the system; we hope a future session will give power back to parents.

Despite the weakening of the parent trigger law, Indiana still achieved impressive reforms last session, and that is largely because of the alignment between Gov. Mitch Daniels and Indiana Superintendent of Public Instruction Tony Bennett. Had they not been aligned, it's hard to imagine we would have made such progress.
That's why we agree with 2004 Democratic nominee for state superintendent Susan Williams, who argued during her run that the role should be a gubernatorial appointment. Williams, long one of our community's most effective leaders, said she'd resign if elected just to allow the governor to appoint his preferred leader.

Indiana should join the 36 other states with appointed school chiefs because it would elevate education in future administrations and ensure Indiana's leadership was aligned to enact bold reform.

The last major change the Legislature should consider is tying the state funding formula to reform. As President Obama said in his 2010 State of the Union Address: "[T]he idea here is simple: Instead of rewarding failure, we only reward success. Instead of funding the status quo, we only invest in reform."

The state funding formula is the state's most powerful vehicle for driving change. Lawmakers should tie the funding formula to reform priorities, so the bulk of the state's resources are leveraged to drive change.

Education reform is front and center and our state made significant progress last session. But one good session will not be enough to transform public education.

Future sessions will give lawmakers an opportunity to build on our momentum. We hope they jump at the chance.•

__________

Harris is CEO of The Mind Trust, a not-for-profit supporting entrepreneurial education initiatives. Send comments on this column to ibjedit@ibj.com.