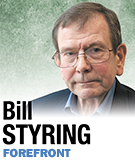 Mike, you are now officially a candidate for the GOP nomination for governor. Odds are that you will get the nod. Your chances in the general election are good.
Barack Obama is unlikely to carry Indiana again. That hopey-changey stuff won't work the second time around. Plus, he's coming off a 2-1/2-year failed experiment in Keynsian economics. Things aren't likely to be much better in the next 18 months.
Still, there's a vulnerability. You—and all the Indiana Republican House delegation—voted for the Paul Ryan budget. This includes a "premium support" plan for Medicare.
While this vote was courageous and correct, you can also be demogogued to death for it. The Dems won a special election in heavily Republican New York District 26 riding the "Granny is being tossed in the snow" horse. Polls say commercials with Granny being shoved over a cliff have proved effective.
So it would be wise to have an answer to the Mediscare tactic ready to go. You are likely going to need it.
We can't maintain Medicare (and Social Security) as is. The demographics are brutal.
Americans didn't have many babies in the 1930s. The Depression frightened many people from having children. Then came World War II, with many of our men being shipped overseas.
But when the war ended and the troops came home, we made up for lost time. In 1945, births were scarcely 2 million. In 1946, births jumped to over 4 million and, remarkably, stayed about there each year through 1964.
This was the "baby boom," by far the largest generation in American history—76 million. The "baby bust," when births dropped by nearly half, began in 1965.
You can see the results in the accompanying table. The ratio of the population ages 25-64 (the potential pool of experienced workers) to those 65 and over (actual or wannabe retirees) has been at around 4-to-1 for decades.
By 2010, it was still around 4-to-1. In 2011, the first boomers turn 65. By 2020, that ratio will be about 3-to-1. By 2030, it will fall to almost 2-to-1.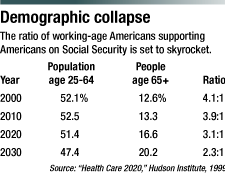 In other words, in a mere 20 years we will go from four potential experienced workers for every possible retiree, to two. Too many boomers and too few busters.
And there isn't much we can do about it. We can fiddle a bit with immigration policy, but basically the demographic cake is baked.
"Don't touch our Medicare" (and Social Security) will crush our kids and grandkids with horrendous taxes. To maintain otherwise is fantasy.
What about borrowing the money? Nice try, but the world is already choking on U.S. Treasury paper. If we try to borrow these sums, our creditors will beat us over the head with our own T-bills.
We could start shooting older people. Being an "old people" myself, I don't believe I much like that idea. (Actually, Obamacare's Independent Payments Advisory Board—those 15 bureaucrats—serves much the same function. At some age, Medicare's allowable treatment will be "take two aspirin and don't call me in the morning.")
No. Something like the Ryan plan is the only alternative.
Mike, there's your answer to Mediscare. All you have to do is find someone who can put it in a 30-second TV spot.•
__________
Styring is an economist, a former Indiana Chamber of Commerce lobbyist, and a former senior fellow at the Hudson Institute. Send comments on this column to ibjedit@ibj.com.
 
Please enable JavaScript to view this content.