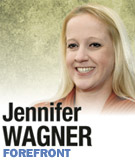 At the time of his announcement, much was written about Gov. Mitch Daniels' decision not to run for president next year—what it means for the Republican field, the campaign and the party nationally.

Not as much was written about what it means for Indiana politics and Daniels' people.

I'm not talking about his top political aides and national backers, who reluctantly wound up back in the marketplace of a dozen other GOP candidates eager to snap up operatives and fundraisers.

I've written before about the creation of political generations, and though I disagree with a great many of his policies and initiatives, Daniels deserves credit for creating and placing two terms of talent in key positions in this community and across the state.

I've been fortunate to get to know and work with quite a few of them, and I consider several of them good friends. (It's often hard for people outside of politics to understand that, like attorneys in a courtroom, both sides can challenge each other publicly but find common ground when the bright lights are off.)

Now that the dust has settled from Daniels' decision to take himself out of the 2012 race, I have to wonder if his acolytes aren't going through a withdrawal process of sorts.

I don't doubt that Daniels intends to stay part of the national debate within his party, and I suspect we'll see him pop up on cable news and at speaking engagements once his tenure as governor is over. But as anyone who's ever held elected office will tell you, the phone doesn't ring nearly as often once you leave that job behind.

This is the end of an era.

And it's worth noting that, unlike other administrations, where someone from within decides to run for the top job, the likely GOP gubernatorial nominee will be someone who couldn't be further from the Mitch Daniels mold.

Where Daniels spent millions defining himself as a moderate Republican business guy who didn't want to talk about divisive social issues, congressman Mike Pence is running from the far right with talking points that often incorporate religion, abortion rights and "traditional family values."

Many of Daniels' staffers reflect his moderate brand, and quite a few of them came from the corporate world to work for him. I can't imagine they're jazzed up about a candidate who's more interested in the newsroom than the boardroom. Pence has publicly stated he has no plans to discuss policy—economic or otherwise—until next year.

With a presidential bid off the table, those moderate Republicans who've loyally worked for Daniels over the years must now choose between life beyond politics or holding their noses on some issues just to stay in the game.

Everyone knows politics is like the Hotel California—you can check out any time you like, but you can never leave—but working for someone within your own party who's the polar opposite of your boss is a tough pill for any hack to swallow. It's even tougher when you thought, hoped and dreamed that your guy was going to make a run for the White House.

Likelier than not, Daniels would never have made it out of the GOP primary, but that's a question now left unanswered for so many loyal foot soldiers.

Over the next 12 months, I predict the quiet return of many Daniels advisers and staffers to the private sector. I wish them well. Rare are the opportunities outside of public service to make such an enormous difference in such a short time, and the transition can be difficult.

Bigger picture, Daniels' exit presents Democrats with a great chance to win back the Governor's Office by focusing on a strong jobs agenda and listening to all perspectives, not just to those who happen to be "a Christian, a conservative, and a Republican, in that order."

Without Daniels on the ticket, the moderate brand is up for grabs. That's good news for Indiana Democrats.•

__________

Wagner is a lifelong Indianapolis resident who served as deputy director of public affairs at the National Nuclear Security Administration. Send comments on this column to ibjedit@ibj.com.