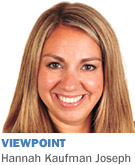 As an attorney working with people starting small businesses, and as an entrepreneur myself, I frequently ask my clients why they are becoming entrepreneurs.
The conventional wisdom that owning your own business is a high-risk proposition is not just rhetoric—the U.S. Small Business Administration estimates that only two-thirds of small businesses survive at least two years, and that rate falls to 44 percent at four years and 31 percent at seven years. In the face of those long odds, I press my clients on their reasons. More and more, I am hearing a variation on the refrain of "Owning my own business may be risky, but at least it is a risk over which I have some degree of control."
Many new business owners are what have come to be known as "accidental" or "forced" entrepreneurs. They have been laid off, pushed into early retirement, or simply fired unceremoniously, often after years of dedicated service to their employer. They have watched their benefits diminish to dust, accepted longer hours for less money, and faced the outcome they had dreaded—the loss of their job during the longest and deepest recession most people can remember.
After going through that traumatic experience, many people have explained to me that they simply refuse to get on the roller coaster again. Some did attempt to find other corporate jobs, but some felt liberated from their cubicles. In either case, they arrived at the conclusion that business ownership, with its attendant risks, was simply less risky than being at the whims of a faceless, nameless executive who decided to "downsize" a department in the name of efficiency, yet still received his bloated bonus.
People are mad. They are tired of being jerked around, overworked, underpaid and expected to just take what they can get, including no retirement, crappy health care and no job security.
What I find exciting is that people are channeling that anger into ambition. Many are realizing that pursuing their dream of making money from their hobby of cooking, making cute jewelry, organizing closets or writing software code can become a reality, once they are freed from the notion that it is too risky to give up a salary. The hard part has often been done for them, and now they don't want to go through the pain, humiliation or fear ever again.
The risks of entrepreneurship are quite different from the risks of unemployment. These are risks that can be mitigated, with the right planning, guidance and discipline. Traditional employees of this decade are too familiar with the unfairness of a system in which performance may have nothing to do with job retention. But in business ownership, individual performance is the key indicator of success. You depend on yourself and yourself alone to do the things it takes to be profitable and successful, such as keeping overhead low, growing organically and strategically, and hitting the pavement to look for business the good old-fashioned way.
That is what makes being an entrepreneur both scary and exhilarating. You will never have to clock in again and fear that HR will terminate you for another doctor's appointment for your kid. It is true that when you own your own business, you are never off the clock. But it is your clock.•
__________
Joseph is partner at Joseph and Turow PC, a local firm specializing in small-business law and entrepreneurial services. She also is an adjunct professor at the Indiana University School of Law in Indianapolis. For more information, visit www.josephturow.com.
 
Please enable JavaScript to view this content.