If this story were a song, it'd be called, "Mamas, Don't Let Your Babies Grow Up to Be DJs."
It's not just that you could create a formidable station with all the talent that's been displaced or exited in Indianapolis radio over the past decade—names such as J.D. Cannon, Jay Baker, Ace Cosby, Jimmy "Mad Dog" Matis, Dave Wilson, Jeff Pigeon, Nigel Laskowski, Steve Cooper and Darren Tandy—many of them casualties of cost-cutting. (Some have returned as part-time fill-ins at their former stations, or in new roles at other stations.)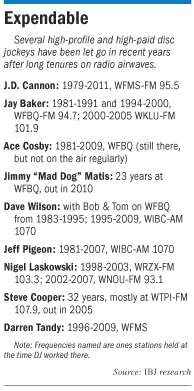 Or that radio teams such as Wank and O'Brien (of WLHK-FM 97.1) and Stuck and Gunner (of WRZX-FM 103.3) have been broken up, and behind-the-scenes people who nurtured talent—like Marty Bender (longtime WFBQ-FM 94.7 program director and executive producer of "The Bob and Tom Show"), Jon Quick (Emmis Communications Corp.) and Scott Sands (Entercom)—have left or been let go.
Rather, it's rare to find a station with more than three live shows. Evening, overnight and weekend shifts are typically filled by syndicated or voice-tracked programming created by disc jockeys in other markets. Or sometimes their voice travels from Indianapolis to somewhere else. Laura Steele, the midday announcer on WFBQ, also does shows in Dallas and San Antonio and announces the songs on a Seattle station that doesn't identify its disc jockeys.
Steele declined to comment, but industry veterans say a midday announcer typically earns a mid-five-figure salary. A voice-tracked announcer is paid maybe a third of that.
"Would I do it over again?" asked Ed Wenck, the afternoon drive-time announcer on WIBC-FM 93.1, who just celebrated 10 years with Emmis Communications. "Absolutely. Would I advise my kid to take a different career path? Absolutely."
Perhaps even more painful is this news: As popular as those big-name local radio personalities were, their station's ratings generally didn't suffer when they left.
"There were some people who were paid pretty aggressively at times. As the situations changed and the business dynamics were looked at by the companies, they'd go, 'Let's see what's important and what's not, and is it worth this much?'" said Chris Wheat, market manager and general manager of the Cumulus-owned stations (WFMS-FM 95.5, WJJK-FM 104.5 and WRMW-FM 93.9) who ran the local Clear Channel stations before being let go in 2006.
"Obviously," he added, "it hasn't affected the listenership to any large degree. What I think it can affect is the personalization of the radio stations to their listening audience. I say 'can' because I don't think it happens to every station."
Resilient ratings
Consider what happened when WFBQ parted ways early last year with Jimmy "Mad Dog" Matis, the station's popular drive-time DJ for 23 years. Listenership by ages 25-54 went from a 5.0 share in fall 2009 to an average of 6.0 in September through November 2010. His replacement was another popular and well-known DJ, Dave "Gunner" Gunn.
Similarly—although it's extremely early—the afternoon numbers on WFMS have not suffered since the station let 32-year veteran J.D. Cannon go in April.
"If they remove a key person and the ratings don't change," said longtime Indianapolis DJ Jay Baker, "then they're justified in saying letting that person go didn't harm this radio station. And you can't hold on to the old model, because things are changing."
Baker was part of WFBQ's heyday but was let go in 2000 during an early round of budget cuts. Today, he works for a technology company, does some high school sports play-by-play on the Internet, and is on Q95 from 10 a.m. to 2 p.m. Saturdays. He also does a voice-tracked shift that airs from 10 a.m. to 3 p.m. Sundays.
Baker said at the time he was axed, he was earning close to $100,000 a year. He was unhappy to lose his job, but he's philosophical about what happened.
Rick Green, vice president and market manager for Clear Channel's Indianapolis stations—WFBQ, WRZX and WNDE-AM 1260—puts it this way. "If people had to choose between their favorite music and their favorite personality providing the music, I think the music's going to come first."
Green's point is borne out by what's happening at Entercom's WNTR-FM 107.9, which has no live personalities. Listen for an hour and you'll hear a variety of pop hits (mostly '70s, '80s and '90s), commercials and almost no talk.
Jenny Skjodt, vice president and market manager for WNTR and sister stations WZPL-FM 99.5 and WXNT-AM 1430, was formerly with Susquehanna Broadcasting in Indianapolis, which was bought out by Cumulus in 2005. She calls the 107.9 format "a non-traditional radio concept." The station has people in the studio, she said, "but instead of just talking on the air, they're engaging with consumers one-on-one. They're taking their requests for songs via e-mail, via texts, via the website. The personality of the radio station is in the listener."
The result appears to be working: WNTR was the ninth-ranked station in Indianapolis in the April ratings.
Less chatter
Laskowski
Part of WNTR's success comes from something stations have learned since electronic Portable People Meters replaced ratings diaries: Most listeners have limited tolerance for talk on music stations. Baker said DJs are now told they need to make their point in nine to 11 seconds, or listeners tune out.
"The PPMs teach programmers what we've needed to do all along, which is to get to substantive programming right away," said former Emmis executive Jon Quick, who now does radio consulting work and runs his own local PR firm.
Nigel Laskowski used to talk a lot in the late 1990s and early 2000s—on WRZX, where he was replaced by a voice-tracked announcer from Florida in 2002, then WNOU-FM 93.1, where he lost his job when Emmis and Radio One traded stations. He said he'd "much rather hear Don Stuck," X103's morning man, "talk about how he got drunk and all the hot chicks that showed up at his gig the night before than hear him talk up the new Seether record. But X103 is a music station."
Today, Laskowski, who was making mid-five-figures on local radio, not including fees for personal appearances, works for a startup logistics company. But radio remains in his blood. He and Jason Alan Hammer, formerly of WZPL and WXNT, have teamed up for a live "bar cast" Thursday nights at Coaches Tavern in downtown Indianapolis. The uncensored talk can be heard at hammerandnigel.com.
In the meantime, his old medium is regaining its financial health after some brutal years. Not only do 93 percent of those 12 and older in the Indianapolis market still listen to local radio during a typical week, but ad revenue is coming back after dropping as much as 30 percent in 2008 and 2009.
This year, ad buys in the market are up slightly—$27 million for the first five months of 2011, compared with $26.8 million for the same period last year—and local radio managers anticipate a rise of 3 percent to 5 percent for the year.
"We'd love to be on the radio," Laskowski said. "You take a look at both of the radio stations I was on in this city. From what I understand, those stations are flourishing. They're huge, huge brands in this city. It's a cliché people say: 'Radio's dead, radio's gone.' I wholeheartedly disagree."•
Please enable JavaScript to view this content.