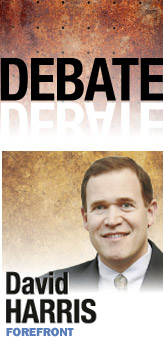 Question: Some Indiana politicians believe schools should begin to guarantee the knowledge of their graduates. Do you agree?
Answer: A high school diploma should guarantee that students are ready for college and careers. Unfortunately, too many students who make it through high school aren't well prepared for what comes next. But nationally, 36 percent of college freshmen had to take at least one remedial class in 2007-2008, the most recent school year for which we have data. According to the Indiana Department of Education, only 79 percent of Indiana high school graduates meet the state's minimum definition for college-and-career readiness.
What can we do to ensure that a high school diploma is a meaningful marker of college-and-career readiness? First, we need to develop "early warning systems" that identify and help students as soon as they begin to get off track. For starters, schools need to use data to drive instruction and remediation.
Second, we need to have the right incentives in place to reward schools that help struggling students get back on track to success. That's possible if, as I argued in an earlier column, we align the state's funding formula with reform.
For example, the state will save money when students accelerate their studies and graduate early from high school. Those students' districts should be rewarded for helping the students move ahead. Districts then could use those rewards to reinvest in remediation and other strategies to help students who have fallen behind.
In addition, incentives should focus on students currently at risk of dropping out or graduating without the needed knowledge and skills. We all know that some communities have an easier time sending college- and career-ready students into the world. In wealthier towns, most high school graduates already go on to college. We don't want to design a system that just sends a windfall to these already advantaged systems.
By contrast, our urban centers and rural communities face a host of challenges, with high levels of poverty and kids arriving in kindergarten already behind. It's these children who—if they finish high school at all—are too often emerging with diplomas but without adequate preparation.
So it's these children who should be the primary focus of any bonuses available to districts. Districts that take students who are headed for failure and prepare them successfully should earn the maximum rewards available.
What about districts that continue to struggle? Would this incentive structure just make them worse? In a system that rewards progress, struggling districts have the biggest opportunity to gain. But if they continue to fail, funding regardless of performance just perpetuates the status quo. Nothing is worse for students than giving more and more money to districts regardless of performance.
Of course, guarantees should be part of a broader range of reforms that make it possible for districts and schools to do what's needed for students. Guarantees and upside bonuses would entice schools to go in the right direction. But if schools are chained to the ground, no incentive would be powerful enough to get them moving.
This spring, the General Assembly removed some of those chains, making it easier for districts to get the right teaching teams in their schools, for example, and expanding options for families. But we need to move further.
In districts that have struggled for decades, we need to explore alternative governance models. We need to move toward a system that empowers talented people to lead public schools, gives them wide authority over staffing and funding, and then hold them accountable for results.
Meanwhile, district leaders shouldn't wait for elected officials to enact guarantees. Districts should focus relentlessly on ensuring that the students they graduate are college-and-career-ready. That's exactly the promise our students deserve.•
__________
Harris is CEO of The Mind Trust, a not-for-profit supporting entrepreneurial education initiatives. Send comments on this column to ibjedit@ibj.com.

Please enable JavaScript to view this content.