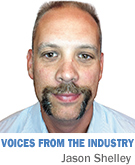 Columbus—that small city about 30 miles south of Indianapolis—has thrown out the welcome maps for visitors, who are discovering, and many rediscovering, what makes this city special.
No, Columbus doesn't have pristine, sandy beaches. It doesn't have mountains to climb or roller coasters to ride.
What it does have is a cleverly designed telephone switching station—yes, switching station—that is among the most photographed structures in the state, and maybe the Midwest. The switching station is part of a collection of architecture that has made Columbus among the top architecturally significant cities in the country.
This latest buzz has come from the opening of the J. Irwin Miller home and gardens, which now is owned and managed by the Indianapolis Museum of Art. It's been featured in design magazines and news publications all over the country, and it's lured thousands of visitors to Columbus to tour the home, and also to take architectural tours of the city.
What we must note is that Columbus didn't become a mecca for modern architecture overnight. But it did start with the vision and focus of J. Irwin Miller, founder of Cummins Inc., who understood the value of architecture and the positive impact it has on entire communities. Miller was the visionary, but other community leaders rallied around that vision, and carried it out with their own building designs.
Architecture has become an economic driver for Columbus. Architecture is bringing in tourists who are pumping money into the local economy, it's helping corporations attract top talent, and it's given opportunities to architects both nationally and locally.
While big-name architects such as Cesar Pelli, Eero Saarinen, Harry Weese and I.M Pei have been hired to design Columbus structures, plenty of local architects are helping shape the modern architectural landscape, including Indianapolis-based Ratio Architects, Axis Architects and Interiors, and CSO Architects. Over the years, Columbus civic leaders and businesses have offered opportunities to architects to help build on Miller's initial vision.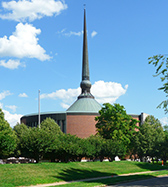 Interesting buildings like St. Peter's Lutheran Church lure visitors to Columbus. (Photo courtesy Don Nissen)
Designers who have worked in Columbus will tell you it's a special experience, because they are given latitude to take risks and push boundaries with design. And that's unique in Indiana, where too often we let our conservative Hoosier upbringing squelch creativity.
Imagine what could happen in Indianapolis if we adopted some of the principles Columbus has? Ensuring that every design has meaning and purpose. Creating structures that tell stories. Allowing designers to push the limits and take risks.
Indianapolis has some great architecture, but we are not considered an architecturally significant city because too often design isn't the driver, it's the afterthought.
We have the opportunity to do better, to learn from Columbus and to take advantage of the creative talent that is right here in the city. But to do that, we have to commit to the principle that architecture is important, and that it can and should be an economic driver for our city.
In Columbus, it started with the design of one church. Now, seven decades later, Columbus is home to about 70 buildings and pieces of public art that very well could be considered the most important collection of modern architecture in the country.•
__________
Shelley is executive director of the Indiana and Indianapolis chapters of the American Institute of Architects. Views expressed here are the writer's.
Please enable JavaScript to view this content.