It was foolish, I suppose, to walk into Bazbeaux's new location (333 Massachusetts Ave., 636-7662) expecting anything culinarily different from what was served across the street at its former downtown location—which is pretty much the same that can be found at the other Bazbeaux locations in Carmel and Broad Ripple.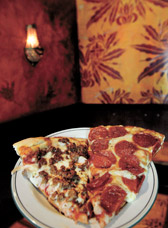 Crossing Massachusetts Avenue hasn't changed the signature topping-packed slices of Bazbeaux's pizza. (IBJ Photo/ Perry Reichanadter)
For anyone who knows Bazbeaux, the question isn't, "How was the food at lunch?" Why mess with a good, successful thing—even if you are moving on up to more upscale, less hippy-ish digs?

You already know that the slices ($2.50 for traditional, $3.25 for "exotic") are small-ish but cheesy and chewy and topping-packed. You know that the chopped sausage is always a winner and you know that a day when the Pizza Alla Quattro Formaggio is in the lineup is a good, good day.

You also know that the side salad is a bit of a joke, even for $1, with a dish of iceberg lettuce and a slice of tomato masking a few tiny shreds of carrot and radish. And you also know that if you don't know how the drill works (order at the counter, go get your drink cup for yourself over by the machine), then there's a chance that the counter help will scowl and make you feel a little stupid.

What you may be curious about, though, is the new Mass Ave set-up, which is far roomier than the previous cramped incarnation, which one hopes will cut down on waits on busy nights. A sidewalk café should offer yet another dining option soon. There's also now a comfy bar area for those with an attraction to craft beers or an aversion to dining with children nearby.

Only downside I can see in the move: You now have to cross the street to talk to Bazbeaux's former neighbor, the parrot usually stationed outside of Stout's Footwear.•

__________

Third in a month-long series of reviews of newish pizza places.