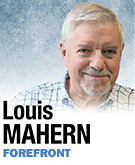 While cleaning out my office the other day, I came across a Life magazine I had saved from September of 1972. It is quite a reflection of the culture of the times.
Popular magazines of that era contained material of general interest. There may well be a sports article, one concerning the space program, something of particular interest to women, and maybe an article about politics or government. There were often cartoons and, of course, advertising.
These weekly general-interest magazines like Colliers, Look and Life were not unlike the three television networks that dominated American entertainment. They both had a little something for everyone. This was long before cable TV and specialty magazines made it possible to watch or read only those things that echoed our own narrow interests. Today, the general-interest magazine is pretty much defunct.
But what is perhaps most interesting in this printed time capsule from 40 years ago are the ads. They speak volumes about the culture of the times and how it differs so much from that of today.
Six and a half pages advertised American cars and related products.
The quarter-page ad for Renault, which no longer sells cars in the United States, was the only one for a foreign car.
Four full pages of advertising were given over to record clubs where one could send away for LPs, cassette tapes and 8 tracks.
Household appliances and liquor came next, with three pages each, followed by life insurance with 2-1/2 pages.
Leading the pack (so to speak) were cigarettes and cigars with 11 full pages of advertising.
However, viewed from 2011, the most notable thing about these ads is what is missing. In these 30-some pages of advertising, there are photographs of 30 different individuals. Not one is African-American.
There are several photographs featuring women, all but two of which show them fawning over a male or an appliance.
As we think about debt-limit crises, the Great Recession and two wars, maybe we should pause to consider how far we have come as a society.
In the late 1950s, The Indianapolis Star ran neither obituaries nor wedding announcements of African-Americans.
As late as 1967, it was against the law in Indiana for blacks and whites to marry.
In 1977, my first year in the state Senate, there were only four women elected to that body. Today, there are 11. Three of our most important institutions—Ball State University, Purdue University and WellPoint Inc.—are all led by females. Virtually no position of importance or influence is closed to women.
While African-Americans are still disproportionately trapped in the cycle of poverty, it is increasingly a matter of class and education rather than race. In law, medicine, industry and commerce, African-Americans have over the past 40 years made amazing strides.
Much of this progress on the part of minorities and women has come about because of anti-discrimination laws, affirmative action and greater educational opportunities.
These things did not happen by accident. They are the result of specific policies sometimes hard fought and often bitterly opposed.
They are also the result of the softening of our hearts and actually getting to know those who were so recently considered the other.
As someone who introduced legislation to ban housing and employment discrimination against gays and lesbians over 30 years ago, I am amazed and heartened to see full rights being extended to them in state after state.
We're not a perfect people by any means. But for 235 years we have been in the process of becoming a better people. It has been, in the words of John Kennedy, "a long twilight struggle." But the arc of history does bend toward justice, fairness and equal opportunity. We have had our ups and downs. At present, it seems a little more down than up.
Maybe that is why it is particularly important in these trying times to recall our successes.•
__________
Mahern has been an assistant to U.S. Rep. Andy Jacobs and U.S. Sen. Birch Bayh and served in the Indiana Senate. Send comments on this column to ibjedit@ibj.com.

Please enable JavaScript to view this content.