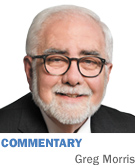 Have you found yourself saying that work is not as much fun or rewarding as it used to be? Have you questioned how much longer you think you can tolerate the situation you're in?
If the honest answer to either of these questions is yes, then you're not alone. I talk to a lot of business people on a regular basis. I've been observing an increasing level of discontent for a few years now, but lately I'm really seeing some folks who are wearing down from the stress created by these tough economic times. They want to return to a better time in their lives.
It's only natural to think of the good old days to try to escape a bit. Everyone's story is their own. For me, I think back to my first job out of college, when I was an account executive for WIBC radio here in Indianapolis. The radio company was owned by Richard Fairbanks.
I was so naive; I had no idea what a great situation I had. I was working for the top-rated radio station in the city. We were No. 1 in so many demographics and time periods, we couldn't raise the rates fast enough. It was like printing money.
The top WIBC sales rep could bill $150,000 to $250,000 a month and go home and take a nap most afternoons. I miss you, Joanie. I found a plaque in my basement this summer that commemorated the first time the WIBC sales staff billed $1 million in local and national billing combined in one month. That is big money today, but back then, that was some serious jack.
All of this took place in the late 1970s and early 1980s. This is after the period portrayed in AMC Network's award winning series "Mad Men," which depicts the advertising business in New York City in the 1960s. But we were still running hard a decade or so later.
Today, would you dare tell your boss that you are going to lunch with one of your top clients and that they expect you to keep up with them while they consume four or five vodkas on the rocks? How about bringing back a signed contract that was handwritten on a napkin for $50,000 and putting that in the client folder and not thinking a thing about it?
Did I mention the constant entertaining of clients and each other? Some folks participated almost every night. There was entertaining at the Speedway, Pacers games, golf outings, Monte Carlo nights, several favorite watering holes and concert after concert.
We had client sales incentive trips where we would take an entire plane load of clients to exotic places like Acapulco, Aruba, St. Maarten, you name the place. That was back in the days when American Trans Air flew non-stop to those destinations.
While I do believe the statute of limitations is up for many transgressions, I'm going to leave this little trip down memory lane there for now. Maybe there is a book in my future. We'll see. That was fun. I was having a particularly stressful day, and now I feel better.
Stating the obvious, times have changed dramatically. There aren't too many situations like the one I just described. While we can't turn back the clock to the glory days, we can still have some fun and feel rewarded in the process. But it's up to us to make it happen. Nobody is going to do it for us.
I remind myself of this now because budgeting for 2012 is upon us. I'm looking in the mirror as I urge managers and owners of companies to pause as they start looking at what else they can cut to the bone during the budgeting process.
Let's not forget about the value of team building and rewarding those staff members who excel in their role of helping your company succeed in extremely tough economic times. Let's continue to work at rejuvenating ourselves so we can rejuvenate our staffs. If you or your staff are feeling beaten down, there won't be enough energy left over to do the job that needs to be done.
Let's try and leave some mad money in the budget. Maybe it can't be as much as in the past, but happy troops are productive troops.•
__________
Morris is publisher of IBJ. His column appears every other week. To comment on this column, send e-mail to gmorris@ibj.com.
Please enable JavaScript to view this content.