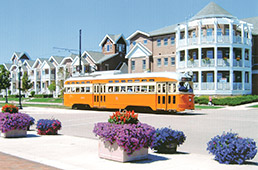 The Wisconsin city of Kenosha built its streetcar route on the cheap, for $6 million. (Photo: Kenosha Area Convention & Visitors Bureau)
After three years of study, a group of Indianapolis business and community leaders now has a route and a price tag in mind for what would be the first streetcar route here since the 1940s.
Downtown Indianapolis Streetcar Corp. said a nearly two-mile circulator between downtown and the Indianapolis Zoo might cost $20 million to $25 million to build and equip.
The not-for-profit group formally reached out to Mayor Greg Ballard's administration in recent weeks with the results of two studies it commissioned.
While not necessarily planning to seek funding from the city, the group would at least need access to the city's streets—primarily Maryland and Washington streets west of Illinois Street.
Ballard said he's been briefed on the plan and "generally speaking, I like it. But I have to look at the details," such as whether it ultimately would require city investment.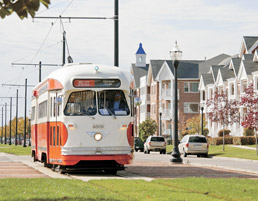 To save money, Kenosha used refurbished streetcars from the 1930s. (Photo Courtesy Kenosha Area Convention & Visitors Bureau)
The streetcar group's consultants estimated the starter system could draw more than 600,000 riders a year—a significant potential source of revenue if fares were assessed.
"Do we want to charge people?" said Steve DeVoe, an attorney at Bose McKinney & Evans and president of the Downtown Indianapolis Streetcar Corp. "That's going to be a major decision."
The route would connect White River State Park and its biggest tenant, the Indianapolis Zoo, to the downtown. It would share with pedestrians the historic Washington Street Bridge that spans the White River.
Indianapolis has a compact downtown that makes it easy to get around on foot, but some major attractions such as the zoo "are a long walk," said Fred Laughlin, vice president of management services at Indianapolis Downtown Inc.
The streetcar line also would link other key assets clustered west of Monument Circle such as Circle Centre mall, Indiana Convention Center, the Eiteljorg Museum of American Indian and Western Art and the Indiana State Museum.
"We've concluded that there is a very significant opportunity in the west side of downtown to create a starter streetcar system," DeVoe said.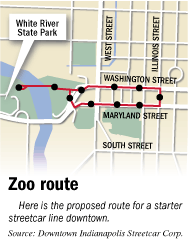 Records kept by IndyGo indicate the last streetcar-like vehicle to rumble through Indianapolis—a 40-passenger, rubber-tired vehicle that drew power from overhead electric lines—ran until 1957.
That last vestige of what was once an extensive electric rail network downtown was replaced by a bus.
Back to the future
Downtown Indianapolis Streetcar points to a number of trends favoring a return to streetcars.
The city faces growing challenges complying with federal standards for ozone and fine-particle air pollution caused by tailpipe emissions.
Moreover, the city has become one of the top convention venues in the nation. Advocates say streetcars would not only enhance the visitor experience but also lead to economic development. They point to Portland, Ore., which in 2001 launched the first modern streetcar system in the country. Within four years, it spurred $2.3 billion in transit-related development along the line.
Since then, dozens of cities have undertaken their own programs, including a $120 million line planned in Cincinnati.
That's quite a bit more than what DeVoe's group is eyeing.
A $20 million to $25 million Indianapolis starter system factors in variables, such as utility relocation costs and different streetcar types.
The cheapest would be a refurbished version of the last generation of streetcars that ran on American streets in the 1940s—a sort of bus-like vehicle with steel wheels. More expensive are versions of modern European units, such as a Czech design used in Portland.
Some cities have built systems even more thriftily, however. In 2000, Kenosha, Wis., built a two-mile system and maintenance facility for just more than $6 million. One of the consultants on the Kenosha project, former Indianapolis resident James Graebner of Denver-based Lomarado Group, was hired by Indianapolis Downtown Streetcar as a consultant.
Kenosha used refurbished "PCC" cars, short for Presidents' Conference Committee cars. PCCs were a sort of standard design that streetcar systems agreed to in the 1930s. They're still sitting rusting in scrap yards, available to be refurbished.
The Indianapolis line would require not only track but a network of overhead electric wires. However, Savannah, Ga., avoided the cost of electric lines altogether by powering a 72-year-old streetcar with an engine that burns biodiesel, made from restaurant cooking grease, to turn an electric generator.
DeVoe said track can be installed in a matter of weeks. Utility relocation can be the most time-consuming, traffic disrupting aspect—as construction of the Indianapolis Cultural Trail downtown has shown.
A complement to trail?
DeVoe contends the Cultural Trail—an eight-mile walking and biking trail being built for more than $60 million—would complement a streetcar line. The Cultural Trail also proved that private funding can be found. The largest gift to the trail was $15 million from Indianapolis businessman Gene Glick and his wife, Marilyn.
Private and corporate donations likely would be a big source of cash for a streetcar. The Federal Transit Administration in recent years has begun to make money available for streetcar projects, as well.
"But with 40-some cities lined up out there and our record for mass transit, I don't think FTA is going to be sympathetic to us," DeVoe said.
The streetcar group first needs to get the city onboard with the concept before it goes in search of money.
Annual operating costs for an Indianapolis system might run from $300,000 to $1 million. Ballard said he wouldn't be inclined to support the system if the city had to pick up part of that annual tab.
Even if the Indianapolis streetcars charge a fare, it probably would make only a small dent. Fare-box revenue from trolleys generally covers no more than 20 to 30 percent of operating costs.
Some cities, such as Portland, constructed a starter system that allowed free rides then introduced fares on extensions built later.
One potential source of revenue would be a share of additional taxes generated by transit-oriented development that might spring up along a streetcar line, particularly on future extensions.
Jeff Wood, streetcar expert at Reconnecting America in Oakland, Ca., a nonprofit focused on transit development, said Indianapolis has a lot of funding concepts to consider.
For example, in Columbus, Ohio, leaders proposed a 4 percent tax on concert, sports and theater tickets to help pay for a future streetcar line. In Cincinnati, Duke Energy contributed $3.5 million to that city's streetcar initiative as part of a rate settlement. Detroit's would-be transit line received a $35 million commitment from the Kresge Foundation. Part of Portland's streetcar system bonding was backed by parking garage revenues.
In Kenosha, Wis., most of the capital costs came from federal sources such as Congestion Mitigation and Air Quality grants.
The most likely second line would be through the nearby IUPUI campus, with other potential offshoots to high-density residential projects such as CityWay, the $155 million Buckingham Cos. project at Delaware and South streets.
For now, "We're not going to have a fund drive," DeVoe said. "We just want to talk to people."•
IBJ reporter Francesca Jarosz contributed to this story.
Please enable JavaScript to view this content.