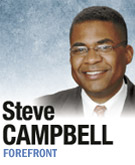 In about two months, Indiana voters will go to the polls to elect or re-elect mayors across the state. Well, at least some voters will go to the polls.
Turnout soars in presidential years, but plummets for mayoral elections. This is backwards.
As a Democrat and a beneficiary of the New Deal, the Civil Rights Acts and the Great Society, I grew up trusting the federal government. After all, it was the feds who freed the slaves, fought the Nazis, gave women the right to vote, protected the rights of my ancestors, and desegregated schools. Without these stances, this nation would look a lot different, and probably not for the best.
I also remember the Contract with America that swept Newt Gingrich and Congressional Republicans into power in 1994. Even though today's national Republicans seem obsessed with antiquated social issues, the contract dealt mostly with real-world fiscal and governmental issues.
Democrats were suspicious, but there was one aspect of the contract that made sense, even to this progressive Democrat: the devolution of government from the federal to the local level.
In essence, the contract sought to send more decision-making responsibility to states and cities and out of Washington. After working in city hall for eight years, I realized this is exactly the way it should be.
The average American (except the families of our men and women in uniform) has very little interaction with Washington, D.C. Sure, the IRS crawls through our bank accounts once a year, and we all have a Social Security card, but I can't remember the last time I personally needed the feds for anything other than a passport.
This was hammered home every day I served as deputy mayor but became crystal clear to me in the most surprising of places: schools.
I'd often find myself as a guest speaker in a high school government class or in a room full of second-graders. Finding the right topic for school-age kids was always a challenge. How do I talk about my job, while also making it relevant to a group of 8-, 12- or 16-year olds? So I had to break it down to the most basic level:
"Kids, do you know who the president is?"
Most of the class would respond: "George Bush!"
Then I would explain that the president was in charge of "the army," the people who protect us at airports, and talking to other countries.
Then I would ask: "Kids, do you know who the governor is?"
About half would respond: "Mitch Daniels!"
Then I would explain that he was in charge of giving out driver's licenses and building highways to connect us to other parts of Indiana.
Finally, I would ask: "Who is your mayor?
Occasionally, a hand or two would go up, but most did not know Bart Peterson was their mayor.
Then I would explain that the mayor was in charge of just about every single thing around them every day: trash, snow, water, sidewalks, parks, sewers, police, firefighters, stop signs, traffic lights and on and on. In other words, the most important things in our everyday lives.
It would be easy to chalk up their reaction (or lack thereof) to the inexperience of youth, but I fear they were merely mimicking their parents' disinterest in local elections.
After all, we started talking about the 2012 presidential race two weeks into the Obama presidency. Everyone has heard the latest outrageous quote from Michelle Bachmann, but probably haven't heard what their mayoral candidates have proposed so far. I can't escape stories on Nancy Pelosi, Sarah Palin or Donald Trump, but have to scour the Web to find a few words about Joanne Sanders, Ryan Vaughn or Ed Coleman.
This is not to say the federal and state governments are unimportant. Clearly, the jobs of president or governor are significant, and elections do matter. My point is that elections in our back yards matter more.•
__________
Campbell, president of Campbell Strategies, was a deputy mayor under former Indianapolis Mayor Bart Peterson. Send comments on this column to ibjedit@ibj.com.

Please enable JavaScript to view this content.