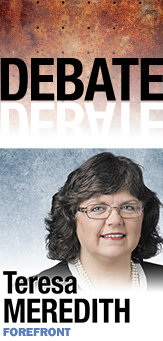 Question: If you could design an urban school district from scratch, what would it look like?
Answer: Indianapolis Public School 34 sits just east of Interstate 65, about two miles south of downtown. I live and teach in Shelbyville and make many commutes to Indianapolis along the stretch of 65 that passes School 34. A few years ago, I watched the deterioration and then the destruction of the aging red brick structure and, finally, the rebirth of the metropolitan elementary.
If I could design an urban school district from scratch, I would like to think that it could be constructed much like the new structure that houses School 34 today.
The strength of the foundation would be formed by a collaboration of administrators, educators, community members, parents and students who would find solutions to the ever-present daily barriers to learning in urban school settings. Poverty, hunger, crime, transience, homelessness, language barriers, transportation, unemployment and ethnicity issues face many urban students before they arrive at the school door.
The ideal urban foundation would include bridges to reduce the risks inherent in urban areas. The entire school culture would be developed to improve expectations and accountability for both its students and community.
Upon the foundation must sit the proper framing of a top-notch staff with access to professional development targeted to the issues of the school district, educators and students. Inclusion of law enforcement officials and the juvenile court system would enhance the infrastructure where students and families need support and guidance. An enriched curriculum would help close the gap. This basic framing would include a remarkable groundwork of adults who care and serve as resources. The district would develop a holistic approach of accountability that included support for the entire system by embracing every adult in the district—from cafeteria workers to the superintendent.
Studies show that successful city schools are made of remarkable adults who work collaboratively for the success of every student, every family. Those schools also display extraordinary levels of respect for every adult and every child. Urban school educators say this intensive collaboration among staff, administrators, and community and family members is the basic framework of their success.
Imagine the buzz of a valuable social services network within the school district that might mimic the mechanics of the school building—the plumbing, the electrical wiring. Community support services like a free health clinic, food pantries and job-training programs could be offered. Visualize after-school care, tutoring sessions and involvement of area community members who might mentor students when they have no safe place to go after school. Building community bonds and support not only brings people together but builds respect for education and educators.
A school's exterior and interior touches don't need to be fancy, but students and teachers thrive in up-to-date structures where educators and students alike have the materials, texts, equipment and supplies they need. Clean and safe buildings make children—who might come from homes where food, water and heating and cooling are luxuries—feel secure and more eager to learn.
And, finally, what would the finishing details be? I am not looking for Taj Mahals, but I see school districts where nutritious meals are routine, healthy snacks are available, safe sidewalks and grounds border schools, and playground equipment and school uniforms are standard.
Urban school districts do face complex disadvantages, but despite those challenges, they deserve schools designed to help their students achieve. In the decades-old School 34, education visionaries saw an opportunity not only to rebuild a façade but, with a vision dedicated to the needs of its unique population, also to help reconstruct the community.•
__________
Meredith is vice president of the Indiana State Teachers Association and has taught more than 18 years in Indiana schools. Send comments on this column to ibjedit@ibj.com.

Please enable JavaScript to view this content.