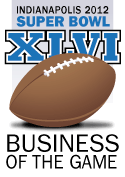 City officials are set to finalize a multimillion-dollar deal to expand the wireless-device bandwidth in and around Lucas Oil Stadium in time for the Super Bowl Feb. 5.
And it won't cost city taxpayers "a nickel," said Barney Levengood, executive director for the city's Capital Improvement Board, which owns and operates Lucas Oil Stadium.
Levengood said wireless phone providers will pay the cost, though he declined to provide details because the deal hasn't been signed. A request for proposals to increase bandwidth at the stadium and Indiana Convention Center went out in late May, and Levengood told IBJ on Sept. 28 that finalizing the deal was "imminent."
Officials for the three major wireless providers involved in the project—Verizon Wireless, AT&T and Sprint—said it's a seven-figure project, and that part of the work already has begun.
The wireless providers say that, in addition to paying to upgrade bandwith, they'll make lease payments to CIB for the space where they'll put their equipment.
Dallas Cowboys owner Jerry Jones in the months before the 2011 Super Bowl shelled out $3.5 million to double the bandwidth at Cowboys Stadium in Arlington, Texas, where the game was held. Jones owns and operates the venue.
Anyone who's been in Lucas Oil Stadium during an Indianapolis Colts game knows it's difficult—sometimes nearly impossible—to get a cell phone signal inside the massive venue. In preparation for Super Bowl XLVI, the NFL has been urging Indianapolis officials for at least a year to address the problem.
"As we do for every Super Bowl host stadium, we provided our standards for hosting the game," NFL spokesman Brian McCarthy said. "The Super Bowl puts greater pressure on the infrastructure than a regular-season game or event due to the volume of calls and transfers of data from the increased number of fans and staff in the building."
McCarthy added that NFL officials will continue to "monitor the matter over the next four months," but "do not anticipate any issues at this point."
Wireless providers are studying wireless and Wi-Fi use data from last year's Super Bowl to determine what infrastructure is needed at Lucas Oil Stadium, said Eric Mann, Verizon Wireless engineering director.
"We're using best practices," said Mann, who covers Indiana, Michigan and Kentucky for Verizon. "We sent a team of local engineers to Dallas the week before the Super Bowl, and stayed there through the game. We're analyzing the call mix from Dallas, and now we're building our system here based on that information."
'Data hogs'
Cell phone service at stadiums is a league-wide issue, but it's most pressing for the NFL at stadiums set to host a Super Bowl.
NFL and large college stadiums recently have surpassed airports as the places where there is the highest usage of data per square foot, said Matt Melester, senior vice president in North Carolina-based Commscope's wireless coverage division.
"Where else do you have 70,000 to 100,000 data hogs in one place?" said Melester, who worked on cellular infrastructure at Cowboys Stadium. "Demand is outpacing [upgrades]. No operators want their customers to not be able to access basic voice and text services."
Melester said bandwidth at stadiums "is a huge issue not only for cellular companies and their customers, but for the NFL and its teams and sponsors."
The challenge of meeting bandwidth demand is far greater at a Super Bowl than a regular-season game, in part because stadiums often are expanded for the Super Bowl. Texas Stadium grew from 80,000 seats to more than 100,000 for Super Bowl XLV. Lucas Oil Stadium will expand from 63,000 to 70,000.
"Bandwidth use is massive right before the game, at the kickoff, at halftime, and during the celebration right after the game," Melester said. "There are tens of thousands of people texting pictures of the game and making calls and texts to friends. There's also an increased desire to access data on websites via hand-held devices."
The proliferation of the iPad and other tablets, along with new services from firms such as DirecTV that allow TV signals to be received by those devices, has increased the need for bandwidth, said Robert Unmacht, principal of iN3 Partners, a Nashville, Tenn.-based media and technology consulting firm.
The media throng converging on a Super Bowl also taxes the system, Mann said. The NFL expects more than 4,500 media members to cover the Super Bowl in Indianapolis, 20 times more than cover a regular-season NFL game.
Wireless carriers involved hope to have the system upgraded in time for the inaugural Big Ten Football Championship at Lucas Oil Stadium Dec. 3.
"We view the Big Ten Championship game, with it being a national sporting event, to as close to being a model for the Super Bowl as we can get," Verizon's Mann said. "That will give us some time to tweak the system between Dec. 3 and the Super Bowl."
Melester said local wireless providers will have to hustle to have the system upgraded by early December.
"For a project like this, 90 days would be a very quick implementation," Melester said. "Where things can get really bogged down is getting all parties to agree on the best course of action."
Mann, whose team has done projects at the Indianapolis Motor Speedway and Louisville's Churchill Downs, is confident the project will be complete on time.
But Melester warned that doing work in an indoor venue, with its myriad walls, floors and ceilings, is more difficult than an outdoor project or open-air stadium.
Other benefits
Mann said the upgrades also should help keep communication channels open in case of an emergency. The Indiana State Fair stage collapse in August highlighted the difficulty in using cell phones during an emergency at a crowded venue.
"A catastrophic event is always going to cause challenges, but we think this will help not only people there, but for first responders," Mann said.
The upgrades to the stadium's cellular and Wi-Fi infrastructure also will allow the Indianapolis Colts to generate new in-stadium advertising opportunities for its corporate partners and allow more interactivity with fans via hand-held devices.
The Colts sales staff is working on a plan to allow in-stadium sponsors to add QR codes—a type of bar code. Stadium visitors would be able to point their cell phones at the code to access anything from a website or digital coupon to a video.
The team also plans to use QR codes to allow fans to order at concession stands. In addition, Colts officials plan to introduce—possibly later this season—an interactive game where fans in the stands predict which plays the Colts run.
"Our fans in the stadium want to be able to access their Colts or an ESPN app during the game," said Tom Zupancic, Colts senior vice president of sales and marketing. "And our sponsors want new ways to interact with our fans. So the issue of bandwidth is a huge one for us, and the Super Bowl has put an accelerant on it."
As a result of increased in-stadium interactivity and QR codes, Zupancic thinks the Colts could boost in-stadium advertising revenue as much as 10 percent.
Information technology experts aren't surprised that relatively new venues like Lucas Oil Stadium, completed in 2008, and Cowboys Stadium, completed in 2009, already need bandwidth upgrades.
"As fast as this technology moves, it's difficult to envision where the demand is going to be in even a couple years' time," Unmacht said.
Stadium officials thought they had enough bandwidth when they built the stadium, Zupancic said, but the proliferation of smartphones and tablets changed that.
Melester said he wouldn't be surprised if Lucas Oil Stadium needs future bandwidth expansions. Cowboys Stadium has already undergone three.
"The main problem is that, as soon as operators add more capacity to their networks, it gets used," Melester said. "The amount of bandwidth capacity that data services consume via smartphones is enormous. And it's only going to grow."•
Please enable JavaScript to view this content.