Anyone who's worked in the corporate world—or watched "The Office" or read a few Dilbert comic strips—knows about team building. Helping cubicle drones develop esprit de corps by putting them through unconventional training exercises is so clichéd that it's jumped from pop culture to high culture.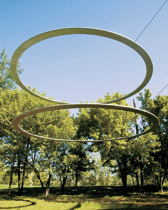 A New York City design firm sculpted Teambuilding (Align) for the Indianapolis Museum of Art after months of research that included team-building exercises in the museum's galleries. (Photo Courtesy of Indianapolis Museum of Art)
Witness Teambuilding (Align), a mammoth outdoor sculpture installed in 2010 at the Indianapolis Museum of Art. Basically two 30-foot-diameter aluminum rings suspended in midair, it was created by the New York City-based design collective Type A after months of consultations with the IMA. Consultations that included taking numerous bona fide team-building courses.

"They even did exercises in our galleries," museum spokesman Katie Zarich said. "What was really funny to me was how many of our staff had never done anything like it."

They probably won't do anything like it again. The IMA, even though it commissioned a work dedicated to the concept, elected not to offer its own team-building program.
"We just don't have the camp-counselor-type staff to do that," she said.

But while the IMA took a pass, other companies and groups—even ones that wouldn't seem to have much to say about business training—have jumped in.

IndySalsa Dance Studio offers to help "develop essential team relationships" using the social lubricant of dance; the downtown standup club ComedySportz Indianapolis states that "Our Group Unity Training Seminars (GUTS) will help your employees find solutions together, and build their confidence in working with others as a team."

And the Indianapolis Art Center promises to forge effective groups by having employees execute a mixed-media collage or canvas painting "based on a theme or your company's mission statement."

And that doesn't count the dozens of national team-building organizations eager to take employees on city-wide scavenger hunts or sangria-making parties, or to have them design a mini-golf course for charity. Among many, many other options.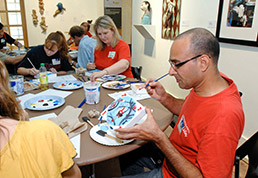 Lalit Verma and his Eli Lilly and Co. co-workers painted tiles recently as part of a team-building exercise at the Indianapolis Art Center. (IBJ Photo/ Perry Reichanadter)
One would think that, given the state of the economy, team-building mania would have melted away like fog on a sunny morning. Yet it persists, in part because the process can be tremendously valuable, at least when it works.

"If these things are garbage and nobody's getting anything for their money, then this is the first place to cut," said Steve Whiting, an assistant professor at Indiana University's Kelley School of Business in Bloomington.

"But I would argue that, in a tight economy like ours, one of the best places to get really good returns is in human resources. That's a competitive advantage that's very difficult for other companies to imitate or steal."

What really works?

But therein lies the rub. How does one find effective team-building training in a world filled with hot-air-balloon excursions and ropes courses?

"Most of them are fairly poorly designed," Whiting said. "Most of them are presented as solving all the ills of the world. Let's catch each other as we fall backward. My opinion of this approach to management is that this is garbage. Yet it has an awful lot of traction."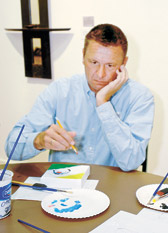 Eli Lilly employee Johannes Tauscher puts the finishing touches on his portion of a company-sponsored team-building project. (IBJ Photo/ Perry Reichanadter)
He thinks managers thinking about dropping some coin on a team-building exercise should decide beforehand what they hope to accomplish, then develop a metric to judge whether things actually improved.

For instance, if you're wondering whether the sales department's monthly paintball excursion does any good, see if there's a spike in post-shootout sales.

The best programs, he believes, are those fostering interpersonal communication. For instance, Whiting regularly has his students attempt a mock ascent of Mount Everest. Each participant is given a piece of unique information, and the team can succeed only if members share.

This is much harder than it sounds.

"Regularly, people fail miserably, in terms of combining information and communicating," Whiting said. "We have a psychological bias that leads us to believe that everyone has the same information we do."

Watching the Indianapolis Colts or Indiana Pacers struggle to put together a winning lineup shows just how difficult teamwork really is, said Thomas Capozzoli, an associate professor in Purdue University's Department of Technology, Leadership and Innovation.

"Some are good at it and some aren't," he said.

The same holds true for businesses and their bosses.

"There's not a whole lot of organizations out there that are successful in building teams, in the sense that they really have a cohesive group of people that are going to have a goal in mind and reach that goal," Capozzoli said.

Tempering expectations

Veteran team-building consultant H. Jeffrey Davis, a clinical psychologist with locally based Professional Psychological Services, thinks it's important not to expect too much from the typical out-of-office program. After all, there's nothing wrong with merely blowing off steam.

"Work environments in this day and age are pretty pressured," he said. "A lot of places are short-handed, nerves get fairly raw under those circumstances, and a lot of people may seek relief by doing something that's fun. It's a way to moderate some of the stress."

Perhaps those exercises would go over better if organizers stopped saying the words "team" and "team building" so much. In the business world, the terms are overused to the point of uselessness.

"It's a buzzword and it has been for several years," Capozzoli said. "You go into places like Wal-Mart or Meijer, and they call their employees associates or team members. But they're still employees."

Capozzoli has done his share of team building, thanks to his former career as a General Motors exec, years of consulting work, and his two decades at Purdue.

One of the biggest issues, he said, is understanding that developing a tight group is a never-ending process. Instead of having a one-shot, out-of-office conference, managers need to run ongoing team-building programs and carefully monitor progress. Forever.

"If somebody's not watching you and critiquing what you're doing, chances are you'll stray," he said.•