Vacant big-box retail stores and their vast, empty parking lots can damage nearby businesses and the ability to attract new ones to an area.
But at least a handful of these once-shuttered mega-marts in Indianapolis and the surrounding suburbs is getting a second chance, thanks in large part to the prolonged slump in the commercial real estate market.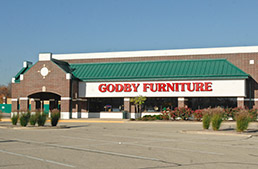 Godby Home Furnishings took over a location formerly occupied by O'Malia's Food Market in Carmel to take advantage of a prime location. (IBJ Photo/ Perry Reichanadter)
For lack of demand, new developments and construction have nearly ground to a halt. So the other option, which retailers likely would shun during better economic conditions, is to fill existing space.
The advantages for retailers are that existing space is prevalent now, because an abundance of large retailers has gone out of business. In addition, the glut of space is much cheaper to lease than new construction.
An anchor of a new development, for instance, might pay $12 to $13 a square foot per month for new construction, compared with only $8 to $9 a square foot to lease existing space, said Mark Perlstein, a principal at the locally based Sitehawk Retail Real Estate brokerage.
And in some instances, the lease rates might fall to as low as $4 to $5 a square foot, depending upon location, he added.
"Every retailer is looking to keep their occupancy cost down," Perlstein said. "The rates are much more attractive than building from the ground up."
Locations once occupied by the defunct Circuit City stores seem most ripe for the picking.
Columbus, Ohio-based Big Lots is moving into one of the electronics retailer's former stores at 10235 E. Washington St. on Nov. 11 and will occupy all 42,000 square feet.
Last fall, K&G Fashion Superstore moved its Castleton store on Center Run Road to the former Circuit City at 5410 E. 82nd St. in Castleton Crossing, taking 39,200 square feet.
Big Lots chose the location on the east side of Indianapolis for a host of reasons. They include good street visibility and access, as well as strong co-tenants at Washington Place, across from Washington Square Mall, which can help drive traffic.
Equally important to the discount retailer was its ability to get sizable real estate at a nice discount, spokeswoman Andrea Fishman said via e-mail.
"We think this new location will not only please our current customers, but also attract a new group of shoppers," she said.
No one has taken advantage of the former Circuit City stores quite like its one-time competitor HHGregg Inc., however.
The locally based appliance and electronics retailer began an aggressive expansion by snapping up Circuit City space in early 2010 and since has converted several stores to the HHGregg brand.
In March 2010, it opened its first stores in the Norfolk-Virginia Beach, Va., metro area in both converted Circuit City and Linens 'n Things locations.
HHGregg also has opened stores in former Circuit City space in several cities in Maryland and South Carolina.
CEO Dennis May has told investors during conference calls that the departure of Circuit City provided HHGregg an opportunity to enter markets by obtaining "favorable" rental rates.
Research by St. Louis-based commercial real estate brokerage Cassidy Turley, which has an Indianapolis presence, indicates the local big-box space being absorbed is reducing vacancy rates but is not yet resulting in rent increases for landlords.
That's mainly because discount retailers such as Big Lots operate on different margin structures than full-price retailers such as Circuit City and Linens 'n Things that previously occupied the space, said Bill French, a principal at the local office of Cassidy Turley.
"All quality locations in the market have activity pending, thus creating optimism on the occupancy side," French said. "But the optimism and euphoria has not spread to the rent side of the equation."
One of the more high-profile spaces in the area to get a new tenant is the former O'Malia's Food Market at 13610 N. Meridian St. in Carmel. Local furniture retailer Godby Home Furnishings moved into the 40,000-square-foot building on Sept. 1.
Godby, founded in 1974 in Sheridan by Jim Godby, also has locations in Avon, Noblesville and Westfield. The family-operated company owns the real estate on which those stores sit and hoped to purchase land in Carmel for its newest location.
The O'Malia's space proved too enticing, though, said Jeff Godby, Jim's son.
"It's a great location," Jeff Godby said. "We would have rather built, but it wasn't feasible. There wasn't a good site in Carmel to build."
Still, the Godbys gutted the inside of the building and signed a 10-year lease, optimistic about the store's future.
"In my opinion," Jeff Godby said, "there's no reason why it won't work."
One big-box location that is proving difficult to fill is the former Dick's Sporting Goods store in Castleton.
Dick's closed the store following its purchase of locally based Galyan's Trading Co. in 2004, opting instead to keep the nearby Galyan's space inside Castleton Square Mall and converting it to a Dick's.
Dick's still is paying rent on the cavernous 70,000-square-foot, two-story space—a size and layout that makes it extremely difficult to market, said Perlstein at Sitehawk.
"There are very few retailers that can retrofit a space like that and utilize both floors," he said.•
Please enable JavaScript to view this content.