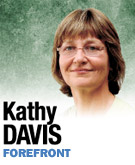 The Beatles say all you need is love. Good policy should make for good politics. I believe both are true. But it's hard to keep the love through the politics. Can good system design help?

The ARC of Indiana advocates for people who have a developmental disability. John Dickerson, The ARC's leader, has lifted our sites and our spirits for more than 30 years. The ARC is doing it again.

Through the recession, reimbursement rates for services for people with disabilities began shrinking. That puts service providers and families at odds, vying to maintain their share of a smaller pie.

The ARC responded by acknowledging that Indiana can't afford our service system any more. But we still have high goals for peoples' lives that we aren't meeting. How do we create better lives for people, while government spends and does less?

Over the last year, the ARC organized conversations among experts and friends: taking stock of today, setting clear goals, analyzing the pieces, then offering a blueprint for change—full system change.

The blueprint was unveiled at the ARC annual meeting Nov. 1. It says:

• People want to use their abilities for work.

• The important relationships are family, friends and colleagues.

• We can't afford what we are doing. The government pays service providers below variable costs. That's not sustainable.

• There are more people with disabilities on waiting lists than being served—and with aging parents, there are more crises than we have resources for response.

• People waiting might be unconnected to any network of support. A recent survey indicated over 50 percent of the people waiting had no one in the community they could turn to for help. Twenty percent of families waiting for services say Mom or Dad had to quit their job to stay home to take care of a child on the waiting list.

• Personal service providers need to be intuitive, interested, knowledgeable people who enable natural life, friends and family. The rules need to support that. We need to pay a living wage so workers have a career.

• Two clients who need the same kind of care are allocated the same amount of money, even if one has family to assist them and the other does not. The system says they are equal, but we need to be realistic about our finite resources.

• People will be asked to give up services they can do without.

• A person's budget for services will respond to changes in his or her life.

• We will deploy user-led assessment and accountability technologies.

• Funding is for people, not provider organizations.

Some of these principles have big implications. Some are even daunting. People who give up services today must trust they will have access if their needs change. Providers with authorized beds, to whom the government system now directs people in need, will have less certainty in their revenues as individuals have more choices.

How do we manage a transition in the way we allocate resources while keeping our strengths intact? Good design. Good policy. Good politics.

When friends of The ARC met to discuss a blueprint for change, there was lots of excitement in the room. One father said he'd been thinking our politic divide would prevent us from doing anything big for people again. But now he sees that we will.

The ARC goes forward to help create networks of families, neighborhoods and employers that will help people with disabilities find their work in life. And propose a new set of assessment tools and government rules. And find allies in the executive and legislative branches of government who are willing to champion the change—new rules that will allow people to have better lives while government does less.

The ARC is serving as honest broker, seeking facts, accepting hard truths, keeping faith with its goals, designing a way there. Showing the love. The politics should be easy.•

__________

Davis is a former Indiana lieutenant governor who owns and operates the Indianapolis technology firm Davis Design Group LLC. Send comments on this column to ibjedit@ibj.com.