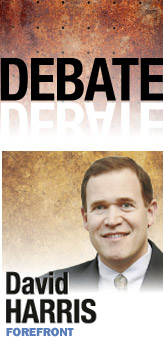 Question: A key portion of school reform that would have created new powers for parents to force change in failing public schools died in the Legislature in April. If 51 percent of parents in a public district school sign a petition, the district would have to allow the parents to apply to a charter school authorizer to convert the school to charter status. Should the legislation be revived in the 2012 General Assembly?
Answer: A "parent trigger" would be one of the biggest game changers in public education history. It would give parents real power to force change in schools. Right now, power is stacked against parents. Special interests dominate, and district bureaucracies are resistant to change.
What is it like for parents whose children are stuck in failing schools, where—despite years of reform—the district just can't turn things around? Why are some parents stuck, while others—with means—help their children by voting with their feet?
A parent trigger might even prove valuable for parents at higher-performing schools as a tool to preserve special programs or gain additional autonomies.
A nominal parent trigger was enacted during the 2011 general session, but it required parent groups to get the approval of local school boards, effectively ensuring the trigger would never get pulled.
Even without school board approval, it would take a lot to mobilize a majority of parents at a school since district leaders would surely push back to maintain control. But if a majority of the parents demand change, we think they deserve the chance to give it a try.
With the trigger converting schools to charter status, we will be improving the odds that good schools emerge. As I've written before, charters create the conditions that evidence demonstrates lead to higher student outcomes. Charters are freed from restrictive teacher contracts, allowing school leaders to build their own teams and design an achievement-oriented school culture. Charter leaders can also extend the school day, offer differential pay to attract top teaching talent, or innovate around curriculum and instruction.
It's clear that not all charters are high-performing. But a recent Stanford study showed that Indiana has one of the strongest charter sectors in the nation, with African-American students faring especially well in charters when compared with their peers in district schools.
We believe the conditions charters create, along with higher accountability for results, will improve the odds that empowered parents can build the schools their kids deserve.
The parent trigger would be a huge shift from the status quo, but important safeguards would be in place. First, and foremost, a majority vote would be only one step in a long process. Even after the vote, parents, and the education groups they choose to work with, would still have to submit a successful charter application to a charter authorizer. If the parents do not have a plan for an excellent school, the school would remain with the district.
As the former head of the Indianapolis mayor's charter school initiative, I know just how difficult it is to put together a strong charter application. It's even harder to get that application passed through the rigorous authorizing process.
At the same time, authorizers will need to become even more vigilant in their review of applications. Nothing would be worse—for parents, students or the charter movement—than approving low-quality charters to replace low-quality district schools.
Last, we need to ensure that parents are well-informed about school providers. We don't want a parent trigger to unintentionally cause a surge in fly-by-night school operators trying to take advantage of a new market opportunity. The Indiana Department of Education, Mayor's Office and civic leaders, and local not-for-profits should work with parent groups to make sure they are knowledgeable about any charter organization seeking to work with them.
School reform is bogged down by powerful interest groups that often fail to respond to the needs and desires of parents, especially in disadvantaged neighborhoods. With appropriate safeguards in place, a parent trigger would represent a major swing of power to the constituency that best represents the needs of children: their parents.•
__________
Harris is CEO of The Mind Trust, a not-for-profit supporting entrepreneurial education initiatives. Send comments on this column to [email protected].
Please enable JavaScript to view this content.