In little more than a decade, Dr. David Decatur has turned his single-office family practice into a multistate chain of vein clinics.

And at 72 years of age, Decatur is not looking to slow down. Decatur Vein Clinic LLC will add another location in Denver in January—its 14th—and Decatur wants to add even more.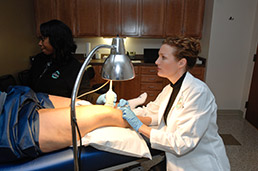 Janette Trent, a nurse practitioner at the Decatur Vein Clinic in Noblesville, works with an ultrasound technician to see if a varicose vein in a patient's leg has closed up. According to Trent, the typical patient makes six visits to the clinic. Decatur is about to open its 14th location. (IBJ Photo/ Perry Reichanadter)
The clinics, some of which are joint ventures with local physicians, treat varicose veins by using lasers or chemicals to close up bulging veins. They employ 85 workers and pull in about $10 million per year in revenue.

The innovation that Decatur seized upon to ignite his growth was the use of ultrasound imaging equipment to deliver medicine to damaged veins in exactly the right place. Previously, doctors could inject medicine to help close up veins, but had trouble delivering it precisely enough to be effective.

Decatur saw a demonstration of the ultrasound-guided technique in Florida in 1999 and started offering it to his own patients in Indianapolis.

"I introduced it to my practice and it just sort of took over," said Decatur, who had been running his family practice since graduating in 1964 from the Indiana University School of Medicine. "It just exploded."

Decatur's rapid expansion is an uncommon success among physicians, few of whom ever replicate their practices like that. And his success at direct-to-consumer marketing may augur a new strategy for doctors in the future.

But Decatur's success was not ensured until he caught a series of breaks in 2003 and 2004—allowing him to wriggle out of a massive debt as well as convince insurance companies to begin footing the bill for his vein treatments.

As Decatur ramped his business up to seven clinics, he got slapped with a lawsuit from Carmel-based insurance giant Conseco Inc. for $28 million in unpaid stock loans. Decatur had borrowed that money in the 1990s to buy stock in the company, which was run at the time by his best friend, Steve Hilbert.

Decatur's 30-year friendship with Hilbert

has been both a blessing and a curse. Hilbert invested more than $1 million to help Decatur launch his vein business. But Hilbert, who put Decatur on Conseco's board, also got him involved in the stock loan program, which in 2004 forced Decatur to declare personal bankruptcy.

While in bankruptcy, Conseco—no longer in Hilbert's control—went after any asset it could find to pay off Decatur's $28 million in stock loans, and zeroed in on the budding vein clinic business.

Conseco attorneys accused Decatur of methodically transferring the revenue from his vein business to two outside legal entities—one controlled by Hilbert's wife Tomisue and one controlled by Decatur's daughter. An attorney for Decatur denied the charges at the time.

But by the time Decatur filed bankruptcy in 2004, he claimed that his interest in the original Decatur Vein Clinic was worth nothing. In fact, he claimed that his own contributions to the company of nearly $650,000 could not be recovered. He said he could afford to pay only $50,000 to settle his multimillion-dollar debt with Conseco.

Meanwhile, Conseco noted, Decatur's vein business was paying him a salary of $200,000 to be its CEO and even had the cash to give him a bonus in 2002 of $460,000.

Decatur "is engaged in a calculated plan of transferring all the value of a lucrative vein clinic business to entities formed by his daughter and the wife of his best friend," Indianapolis attorney Ryan Leitch wrote in Conseco's case against Decatur.

In the end, Steve and Tomisue Hilbert agreed to have Conseco's claims against Decatur transferred to them. Hilbert—who owed Conseco more than $250 million in unpaid stock loans—gave his Carmel mansion to Conseco and eventually struck a settlement in December 2006.

"He's my best friend and always will be," Decatur said of Hilbert. "He's an excellent businessman. He's been very supportive."

Hilbert, who is now CEO of Indianapolis-based private equity firm MH Equity Investors, met Decatur 30 years ago while they were filling up their cars at a Shell gas station in Westfield.

They lived in the same housing development, so they started hanging out together. Even now, Hilbert said, their families spend holidays together.

Hilbert, who with his wife remains a part owner of Decatur Vein Clinics, said a key to Decatur's success is that he set out early to replicate the clinic and to make the experience the same at each location. To do that, Decatur sought out Hilbert's advice on computer systems that would be easily scalable, and then has spent lots of time training his staff.
Decatur
"Dave is a complete fanatic on training," Hilbert said. "His absolute focus on detail with the doctors, with everyone involved with Decatur Vein Clinics, I think that's why you have such testimonials from people that have gone to it."

Hilbert also had a hand funding Decatur's first foray from medicine into business. In 1988 he created a diet drink for diabetics called B.L.D., short for breakfast, lunch or dinner. Conseco loaned Decatur some money to commercialize the product, taking a 49-percent stake in his business.

Conseco spokesman Jim Rosensteele told IBJ in 1990 that some Conseco executives had tried B.L.D. and liked it, then decided to invest.

"It was a real high-powered anti-oxidant, which everybody should have," Decatur said.

Decatur formed a company called Decatur Fitness Systems Inc., which supplied the drink to local supermarkets. Decatur built up the business until he eventually sold it in 1994 to California-based Healthy America. Decatur said the sale was for stock in Healthy America. He declined to name the sale price.

In both his business ventures, Decatur said, he was driven by a desire to help patients prevent diseases before they started. B.L.D. was meant to help diabetics regulate their blood glucose levels. And the vein treatments he uses are meant to avoid the need for surgery, called vein stripping, which can be painful and involve a lengthy recovery.

Varicose veins bulge in key places, which hampers their ability to feed blood back to the heart, causing it to pool in the legs. They're unsightly, but also can lead to amputation in the worst cases.

"I fell in love with the vein business because it's one of the few things that we can really do in preventative medicine and people really have a positive response to it," Decatur said. "We don't have a lot of that in medicine, really."

In addition to using ultrasound to target medicines, Decatur also was an early adopter in 2004 of endovenous laser treatments. That treatment can reach varicose veins that are out of sight below the skin, but that can still impede blood flow or cause pain. The laser heats the vein, in effect cauterizing it, until it closes.

The body then routes blood flow through other, existing veins.

Before 2003, almost no health insurance plans paid for such therapies, regarding them as merely cosmetic. Only the stripping surgery could receive insurance reimbursement.

But Decatur and his staff met with health insurers, including Indianapolis-based Anthem Blue Cross and Blue Shield, and eventually convinced them that they were doing more than making middle-age women's legs look better.

Insurance reimbursement was vital for Decatur's growth. According to Janette Trent, a nurse practitioner at the Decatur Vein Clinic in Noblesville, the typical patient at Decatur makes six visits, and racks up a bill ranging from $3,000 to $10,000.

Decatur Vein Clinics do have competitors. One is VeinSolutions, started in 1996 by Indianapolis-based physician practice CorVasc. Through partnerships with other physicians, it now has 16 locations in nine states, including its original office in Carmel.

Also, New York-based Vein Clinics of America has 44 clinics in 14 states, including two in Indiana. And of course many hospitals offer similar treatments as Decatur.

But through TV and radio advertising in each market, Decatur has been able to make its clinics successful in all but one market—Grand Rapids, Mich.—which it wound down last month.

It's unusual for a physician practice to replicate like Decatur has, said Mark Blessing, a physician accountant at BKD LLC in Fort Wayne.

"They're not corporately run," Blessing said. "They're still run on the reputation of the doctor and that doctor has relationships with the patients."

But with the success of Decatur, as well as urgent care centers, to draw patients by advertising a company, not a specific doctor, it's plausible that more doctors will follow suit, Blessing said. It's even more likely if patients themselves keep being asked to pay more of the bill.

"If all of a sudden the patient is more on the hook, it makes sense you'll see more marketing and more delivery methodologies that are more directed at the patients, in getting them in," Blessing said.

Decatur plans to do exactly that, adding more vein clinics in other states.

"As long as they're doing well and people are happy, we'll be moving along. I'll go wherever they're needed," Decatur said. "Retirement has never been anything I've ever thought of."•