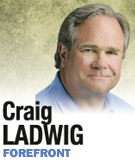 As wannabe hippies of the baby boom now leaning toward a classical liberal persuasion, my generation has its weak moments. There are times we look to government for an answer.
On hurried grocery trips, for instance, I have found useful the federally mandated "total carbohydrates" line item on food labels. And watching the recent college bowl games, it occurred to me that inanity alone should justify imprisoning sports commentators.
For such moments, friends have gathered a collection of favorite governmental disasters—excluding, for lack of storage, any wars (martial, social or political). I keep the list close to me these days.
1. The Central Canal. As a Hoosier, the premier place in my collection must be reserved for Indiana's Mammoth Internal Improvements Act of 1836. It allowed state government to get into what was then the high-tech business of canal-building. It's a short story, but typical:
The only part of the imagined Central Canal of Indiana that actually functioned was an eight-mile stretch closest to the center of political power. And by 1841, the state couldn't pay the interest on its internal debt and went bankrupt.
2. The Fort Wayne bypass. A multi-generation exercise in community-wide shortsightedness, the so-called Fort Wayne bypass (Coliseum Boulevard) was clogged by growth almost before completion in 1952.
A prominent Fort Wayne businessman told the story of receiving a visit from a delegation of Fort Wayne civic "leaders" in the months after World War II. They wanted his support for the route. When he withheld it, one reminded him of a promise to support the route when the war was over. The businessman explained that he had made that promise during World War I.
3. The Cincinnati subway. An object lesson for Mayor Greg Ballard and his Indy mass-transit boosters, the subway system in neighboring Ohio was a work in progress from the early 1920s until 1946. Cincinnati began digging tunnels for the $12 million subway despite the fact it had only half that much in the budget.
It completed the tunnels but didn't have the money for the trains. The system now reportedly costs $2.6 million a year to maintain in its emptiness.
4. The Haitian earthquake. Earthquakes of Haitian-like intensity do not necessarily kill 316,000 people. A similar 1994 southern California earthquake, by contrast, killed fewer than 100 people. The difference is that the Haitian government doesn't understand or doesn't care about the life-saving nature of private property. It is estimated that 68 percent of Haitian city dwellers and 97 percent of their rural counterparts live in housing for which no one has clear legal title and therefore has no incentive to maintain. That is because it takes virtually a lifetime to obtain government permission.
5. Native American reservations. My last is an amalgam of the others, a working model of what Barack Obama envisions for us all. Unpaid debts on some reserves may have to be pursued in tribal "national" courts or even internationally. The result, predictably, is that loans are difficult or impossible to get.
The great number of Native Americans live on meager per-capita checks from their tribe's trust fund. A former chief, Manny Jules, explained the situation to Forbes magazine: "Markets haven't been allowed to operate in reserve lands. They've been legislated out of the economy. When you don't have individual property rights, you can't build, you can't be bonded, you can't pass on wealth. A lot of small businesses never get started because people can't leverage property [to raise funds]."
*The Battle of the Little Bighorn—I include this as an asterisk because it is based on a theory, albeit a good one. It posits that incentives inadvertently built into the government system of paying Indian agents may have caused Gen. George Armstrong Custer to underestimate the number of Native Americans in Sitting Bull's war party by a magnitude of three. The agents "reported" 37,391 Native Americans on reservations before the battle, but an actual count afterward could find only 11,660.•
__________
Ladwig edits Indiana Policy Review, a quarterly journal studying local public policy. Send comments on this column to ibjedit@ibj.com.
Please enable JavaScript to view this content.