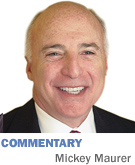 It was a heady time, 2005: the year Gov. Mitch Daniels took office. Those of us privileged to work in his administration were encouraged to provide the governor with opportunities to improve state performance—and there were many.
Sally Byrn of Lafayette, a member of the Indiana Economic Development Corp.'s board of directors, told the governor that roadside rest areas in Indiana were ill-maintained eyesores. Trash was strewn about, grass was not mowed and the bathrooms were disgusting.
Not long after, Sally pulled into a roadside rest area and was pleasantly surprised to find the site was in complete order—grass neatly trimmed and bathrooms clean. She shared her joy with another traveler, saying "I told Governor Daniels just a few months ago that these rest stops were in terrible disarray and I am so proud to see that his administration has taken charge. We are finally going to get things fixed in Indiana." The fellow traveler responded, "Lady, you're in Ohio."
Before the end of that year, I also alerted the governor to an opportunity.
While serving as president of the IEDC, I led the team that negotiated with hundreds of companies in an effort to persuade them to invest and create jobs in Indiana versus another state or country. Often, the companies we worked with were represented by site selectors. We solicited and received feedback after firms made their decisions, and some national site selectors confided that Indiana did not make the cut because the state did not have a right-to-work law. Such measures prevent unions from requiring workers to pay union dues or equivalent fees regardless of their interest in membership.
These site-selection professionals confirmed that about one-third of the companies they represented limit their search to right-to-work states. At our closure rate of 90 percent, it was easy to calculate that an immense opportunity awaited Indiana if right-to-work legislation could be enacted.
My message to the governor was simple: "If we have an opportunity to make our case to more companies, we would create jobs at a quicker pace." My successors in the position, Nate Feltman and Mitch Roob, reached the same conclusion and conveyed the same message.
Unions have a powerful voice in Indiana and use it to exert influence on business and politics, specifically the Democratic Party. Right-to-work legislation would dim but not silence that voice by reducing the union's financial resources. With much at stake, unions mightily resist this legislation. That is why in the past a Democratic majority in one or both chambers of the state Legislature has doomed right-to-work initiatives.
Sensing that he has the numbers in this Republican controlled session, the governor in his State of the State message on Jan. 10 made this contentious issue an important component of his legislative agenda. As the governor said, "This administration will not loaf" in Daniels' final year in office.
The move is courageous. It is much easier to clean up highway rest stops than it is to create opportunities for more jobs by enacting right-to-work legislation. After seven years of guiding Indiana to a balanced budget and AAA credit rating, lowering property taxes, investing in infrastructure, efficiently delivering governmental services and yes, cleaning up our parks and roadside rest areas, the governor did not need to take on right-to-work to leave a legacy of success. It is simply the right thing to do. No worker should be forced to pay a union in order to hold a job.
Daniels deserves a standing ovation from the citizens of Indiana—not a walkout or an ill-timed disrespectful rally in the Statehouse during his last opportunity to deliver a State of the State address. The state of Indiana deserves more as well.•
__________
Maurer is a shareholder in IBJ Corp., which owns Indianapolis Business Journal.  His column appears every other week. To comment on this column, send e-mail to mmaurer@ibj.com.
 
Please enable JavaScript to view this content.